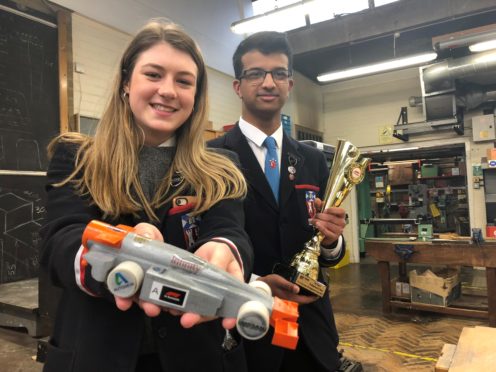 Pupils at an Aberdeen secondary school are hoping to take their place at the top of the podium in a UK competition after creating their very own Formula One car.
Teenagers from Aberdeen Grammar School triumphed over other Scottish schools during a recent regional contest in Livingston, and are now revving up to take part in a bigger challenge at Silverstone in March.
The group of six pupils, all in S6, stayed late after lessons for months as they planned out their amazing miniature motor.
Staff even constructed a 100ft long track along a corridor, costing £3,000, as the youngsters tested the invention.
And the hours paid off when the tiny replica won the "fastest car" prize by screeching past the finish line of a track that size in just 1.28 seconds.
Team member Cara Gardiner acted as finance manager and said the project has boosted her confidence ahead of entering the world of work.
Cara was tasked with phoning around major businesses securing £1,200 in sponsorship, and helpful materials.
She said: "I want to study business management at university and this has been helpful.
"It was daunting at fist having to speak to companies, but the experience has been great."
Teammate Faraj Monnapillai, who will study computer science at university, said the design of the car was carefully plotted on computers before a final design was selected.
And the 17-year-old promised that improvements would be carried out before the UK finals in March.
Faraj said: "We are looking at upgrading the wings and the wheels so that it can travel even faster next time.
"We have seen some of our competitors online and reckon they have better cars than ours, so we are working to make it speedier and hope we can get down to a time of about 1.06 seconds."
Fellow S6 pupils Job Derksen, Becky Caustern, Aidan O'Riodan and Fraser Lambers made up the rest of the team, dubbed Overdrive.
And a second side from Aberdeen Grammar School, called Concorde, came third in the Scottish event – also securing a place in the UK finals.
Technology and design teacher, Matthew Foster, praised the team's dedication as he explained they had stayed late at school repeatedly while preparing for the contest.
The council's education committee convener, John Wheeler, said: "It is achievements like this that encourage young people into careers in engineering and science."