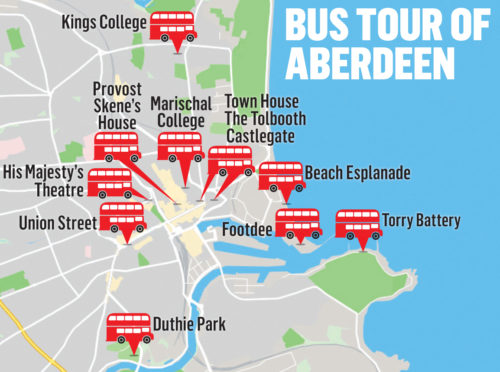 Open-top tourist buses could be returning to Aberdeen under new ambitious plans aimed at regenerating the city centre and boosting tourism.
They may be a well-known sight in places like Edinburgh and Barcelona, but the service has not been operational in the Granite City for more than a decade.
Tours, with pick-up points across Aberdeen, previously ran in the Granite City for years but were whittled down from half-hourly to hourly in 2001, and to one every 90 minutes in 2002.
In 2003, operator First ditched open-top buses and brought in coaches to run just one morning and one afternoon tour a day from a fixed starting point.
But the firm then dropped the loss-making operation.
In summer 2008, a service was trialled again with approximately 3,400 tourists using the service.
However new data gathered by members of Aberdeen Grampian Chamber of Commerce based on 2016 visitor figures, suggests that if the service was to be launched again they could see around 12,500 passengers.
The proposed route would see tourists taken around the sites of the city including Marischal Square, Duthie Park, Old Aberdeen, the Beach Esplanade and Fittie and His Majesty's Theatre. An additional stop at Torry Battery is likely to be included on the completion of the Grey Hope Bay dolphin centre.
David Edgar, catering and hospitality manager for the National Trust for Scotland, is one of the members of the Vanguard movement who has been in talks with Stagecoach about bringing the popular tourist attraction back.
He said there have been discussions with the bus operators and are in the process of looking at funding and sponsorship opportunities.
While the plans are not yet "set in stone" talks are set to continue next month with the hopes of having a service up and running by the summer.
Last night a spokeswoman for Stagecoach confirmed discussions had taken place and said they had agreed to meet in the New Year with the Vanguardees to see if there is a way of progressing their idea in 2019.
Other ideas mooted by Mr Edgar, who also presented to Sir Howard Bernstein, included walking foodie tours and easy access to running, cycling and walking trails.