Almost half of the bars claiming to back a pioneering safety campaign are failing to protect their customers from unwanted advances, a Press and Journal investigation has revealed.
Last year more than two-dozen nightspots in Aberdeen city centre pledged to follow the Ask for Angela code word scheme.
Through the initiative – which is backed by the police, city council and Rape Crisis Grampian – anyone feeling uneasy or unsafe on a date is meant to go to the bar and say they are looking for someone called Angela.
---
>> Keep up to date with the latest news with The P&J newsletter
---
Upon hearing this code word, the staff member is meant to either call them a taxi or help them leave the venue discretely.
But when The Press and Journal sent two undercover reporters to test the scheme out, almost half of the 14 nightspots visited followed the correct procedure.
Bosses at two of the bars which failed the test, Siberia and Bar 99 and Kitchen, last night claimed the undercover reporter did not appear distressed enough for staff to take the appeal seriously.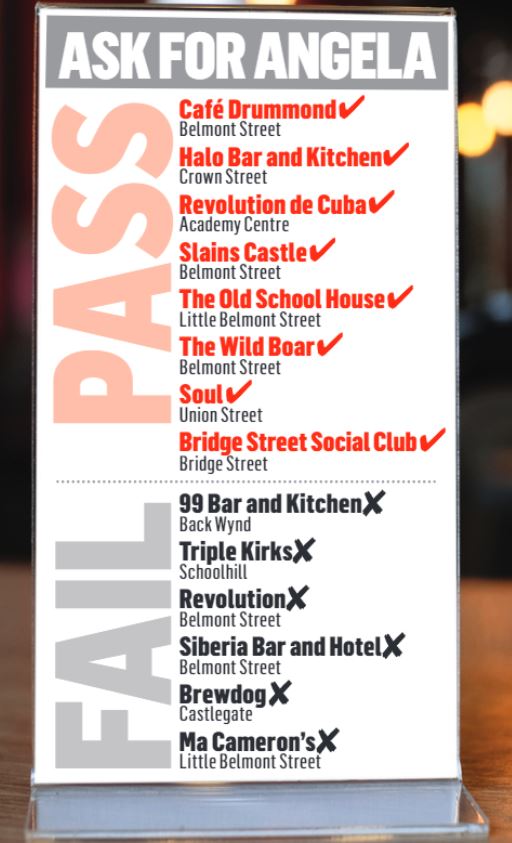 The trials included Ma Cameron's on Little Belmont Street, where a member of staff told our reporter: "She's maybe next door at The Old School House."
There were also difficulties at the nearby Siberia Bar and Hotel on Belmont Street as, when asked, the barman said: "She's not actually in the country at the moment."
Staff also failed to recognise the code word at Triple Kirks, Revolution and Underdog.
Cafe Drummond, Halo Bar and Kitchen, Revolution de Cuba, Slains Castle, Soul, Bridge Street Social Club, The Old School House and The Wild Boar all followed the correct guidelines.
Sergeant Kim Wood, of the police's licensing team, said it was important that staff working at the pubs, bars and nightclubs staff signed up to the scheme are all familiar with how to implement it.
She said: "The introduction and use of Ask For Angela in licensed premises is a very positive thing.
"However for the premises to support the initiative, it is important that staff are familiar with it and understand what to do when a person does Ask for Angela.
"Police Scotland continue to work closely with the licensed trade providing advice and guidance in respect of the initiative."
Nicola Johnston, Aberdeen Inspired's evening and night time economy manager, said: "The licensed trade in Aberdeen deliver on a number of initiatives to enhance the safety and well-being of their patrons including mental health and bystander intervention, suicide awareness training, first aid, and Ask for Angela.

"Ask for Angela is a very positive campaign which has been supported wholeheartedly by the licensed trade.
"Along with this, they work closely with Police Scotland, the street pastors and other partners to ensure the safety of the public."
"The night time economy is a vibrant asset to our city centre offering and it is currently of course a very busy time of the year for the sector.
"We would encourage everyone to enjoy themselves and the festive period responsibly."
What did each bar say?
Brewdog Castlegate
"We don't have any Angelas that work here, I'm afraid."
Ma Cameron's
"She's maybe next door at The Old School House."
Revolution
"Angela? We don't have an Angela that works here."
A spokesman for the bar said that Ask for Angela was a "great" initiative and that, following The P&J's investigation, all of its staff have been fully briefed on the scheme.

99 Bar and Kitchen
"Angela? No."
Owner Milo Smith said all of his staff members are aware of the scheme.
He added: "My staff member mentioned to me that the couple in question walked into the premises, asked to speak to Angela, then left.
"They felt that they weren't asking seriously, which due to tone and attitude is usually a huge indicator of things going awry."
He added that an off-duty member of staff followed our reporter up the road and, seeing they were laughing, felt "there was no serious issue".
Mr Smith called the P&J investigation a "massive misuse" of the scheme which is putting the reputation of businesses and the initiative "in jeopardy".
Siberia
"She's not actually in the country at the moment."
Company director Stuart McPhee said the misunderstanding arose because one of his colleagues is named Angela.
He also said that staff looked for anything "untoward" in the venue immediately after, but our reporter had already left.
Mr McPhee added: "All situations that have been dealt with up until this point have been done so with a customer who is in clear signs of distress pointing us towards the need for any form of assistance and safe haven that we can give them, and this was always the marker to which we based our decisions on when executing any."
Triple Kirks
"I don't think there's an Angela that works here."

The other bars did not respond to a request for comment.
All those that passed offered our reporter a discrete way to leave the venue.
This included Cafe Drummond, which asked if she meant a person named Angela, or if she was referring to the safety scheme.
Guardian angels
The success of the Ask for Angela scheme in Aberdeen has led to its roll-out in areas across the north and north-east.
In October a raft of landlords in Aberdeenshire and Moray signed up to promote the initiative.
And while the number of venues joining is constantly growing, it is likely that Ask for Angela is a bigger movement than the official figures might suggest.
It is thought that many bar staff across the region recognise the Angela code-word and will know what to do if they hear it, even if their venue has not officially announced its involvement in the scheme.
Festive revellers in Moray told to 'Ask for Angela' at bar to escape unsafe situations
Ask for Angela was first trialled in 2016 by Lincolnshire County Council.
Using the name Angela as a sly reference to guardian angels, it was devised as a way for pubs in the area to come together with a more cohesive approach to helping people in distress.
The local authority's sexual violence and abuse strategy co-ordinator said: "We'd seen that a few individual pubs around the country had done similar messages at the bar saying that if people's dates weren't going well the bar staff would help and call them a cab.
"We wanted to do this in a more organised way."
Immediately after its roll-out the message spread rapidly and, at one point, was publicised by Hollywood actor Ashton Kutcher.
The use of the scheme has been successfully implemented in the north-east, Kilmarnock and Dundee, and has been endorsed by bodies including Police Scotland and Rape Crisis.
Similar initiatives are now beginning to crop up in countries including Canada and Australia, with many hailing its positive results in keeping people safe.