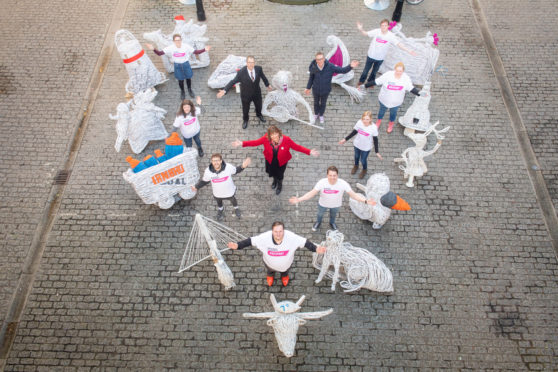 Young people living in Grampian have selected their #ScotArt symbol as part of a Year of Young People 2018 project.
The lighthouse – featuring waves spelling the Doric saying 'Fit Like?' – has been revealed as the symbol that best captures the pride of their region.
#ScotArt is a national youth engagement programme relating to the Year of Young People 2018.
The symbol has been selected alongside 13 other wicker sculptures chosen by youngsters across Scotland, following a creative workshop led by Grampian #ScotArt Young Artist Natalie Wearden.
On Grampian's sculpture, Natalie said: "We wanted to find a symbol that represents the rich history, nature and culture of the Grampian region.
"Together with the lighthouse we feel that we have created a symbol that evokes a bright collective future for Grampian, whilst also celebrating its unique history, prevailing culture and tradition, and all the incredible people who live here."
The project has reached a hugely diverse range of young people across Scotland with over 300 taking part in the creative workshops, including school groups, carers,  refugees and LGBT groups.
Other sculptures selected were a coal cart filled with Irn Bru to represent Lanarkshire, and Glasgow opted for Billy Connolly busking with his banjo.
They will be on display at the Royal Mile until December 29 and will be involved in the Edinburgh's Hogmanay Torchlight Procession.
#ScotArt Young Champions will lead the Torchlight Procession, each carrying a banner emblazoned with their regional symbol.
Cabinet Secretary for Culture, Tourism and External Affairs Fiona Hyslop said: "Year of Young People 2018 has been an incredible celebration of our nation's young people.
"Projects such as #ScotArt have created new and exciting opportunities for them to express their creativity, talents and views on a world-wide stage."