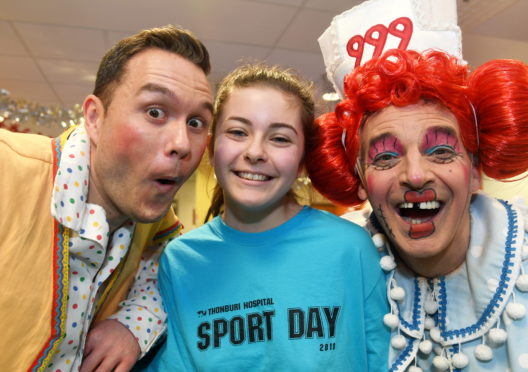 Pantomime stars from His Majesty's Theatre paid a special visit to youngsters and staff at Royal Aberdeen Children's Hospital yesterday.
The cast of Snow White and the Seven Dwarfs brought along some early festive cheer for children who are unlikely to be able to see the show at the theatre this year.
The youngsters were treated to gifts by the stage stars and given the opportunity to interact with them.
West End and television leading man Lee Mead has been charming audiences as Prince Charming, performing alongside returning duo Jordan Young and Alan Mchugh.
Lee said: "It really is such a nice thing to be involved in. It's a privilege to be able to come along with the other cast members and try to put a few smiles on their faces.
"And the fact that some of them and their families will be spending Christmas day here at the hospital, it makes us putting on our costumes and cheering them up even more special for us."
Heather Beattie, play service manager at the hospital, admitted she has caught a glimpse of every panto visit to date.
She said: "I've been working here 28 years in February and can't remember the cast ever not visiting the hospital.
"You definitely feel a positive change in the atmosphere because of the cast's enthusiasm and colourful costumes and you can tell they love it just as much as the kids, families and staff do.
"We really appreciate the time they take out of their busy schedules each year to be here because it makes the festive season brighter for everyone involved."
The HMT show will run until Sunday January 6.