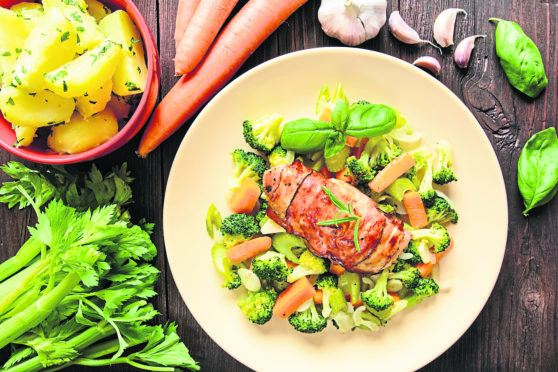 Prisoners at jails in Peterhead and Inverness will be tucking into multiple festive meals during the next few days.
Prisoners doing porridge over Christmas and Hogmanay will be served a range of dishes including roast beef, steak pie and turkey with trimmings.
Inmates at the £150million HMP Grampian facility in Peterhead will be offered a three-course Christmas meal tomorrow.
Dinner choices for the north-east prisoners include either chicken Balmoral, a firm favourite on previous HMP Grampian Yuletide menus, or a new vegetarian alternative, comprising Wensleydale cheese, leek and clotted cream pastry crown.
Both come with trimmings of boiled, roasted potatoes and sprouts and carrots and are served after soup and rolls.
The dessert selection for the festive meal is the choice of a sticky chocolate and orange cake or fruit served with cream.
There also is a Halal menu on offer to inmates.
As a way of heralding in the New Year next week, prisoners will be given cheeseburgers, steak pie and trifle.
The menu information was released by the Scottish Prison Service through a Freedom of Information request.
Liam Kerr, Conservative MSP for the North East of Scotland,  said "Most people do not begrudge prisons serving up Christmas dinner.
"However, victims of crime may understandably be upset to see the extent of what is on offer.
"There are plenty of law-abiding people who will not be served anything as extravagant as this on Christmas Day."
Further north, a more traditional fare is on the table.
HMP Prison Inverness serves courts in the Highlands, Islands and Moray.
It will be serving up turkey with Christmas pudding for lunch, followed by steak pie for dinner.
The latter option will include a wide array of side dishes, including chips, a Mars bar, cup a soup and a satsuma.
Prisoners at the currently overcrowded facility will also receive a Boxing Day and a New Year's Day meal, with similar items on the menu.
A spokesman for the Scottish Prison Service said: "Christmas menus are contained within the normal budget, there is no added expenses for jails at this time of year.
"Christmas is a particularly difficult time for prisoners, when they are away from their families, and this is a way we can use our normal budget to do something for them."
Spreading good will and festive joy
Female inmates at Cornton Vale prison will be treated to nail painting and pampering sessions.
Convicts at HMP Low Moss will play The Cube game show-style game while those at Barlinnie in Glasgow will be treated to comedians, a singer and sports contests.
At HMP Edinburgh there will be a 'scavenger hunt', quizzes and tennis and basketball competitions.
Female inmates at HMP Grampian will also be given pampering sessions while the men play for prizes in an 11-a-side football tournament.
Shotts maximum security prison in Lanarkshire, home to some of the country's worst offenders, will hold sports days, two comedy nights and quizzes.
Scottish Conservative justice spokesman Liam Kerr MSP said: "No-one would begrudge prisons laying on some kind of acknowledgement that it's Christmas time.
"But victims of crime will be understandably angry and upset at some of the flamboyant activities on offer.
"And many law-abiding people across Scotland would never be able to get access to this level of entertainment."
Other jails are holding events for inmates' families and children, including Santa visits and carol singing.
A spokesman for the Scottish Prison Service said: "The vast majority of these events where there are costs associated are paid for through the common good fund which the prisoners contribute to. Other events are paid for from existing budgets.
"Christmas is a very important time for everyone and it is also a time when families have the opportunity to spend time with people in our care. These events can nurture family relationships which help to reduce reoffending."