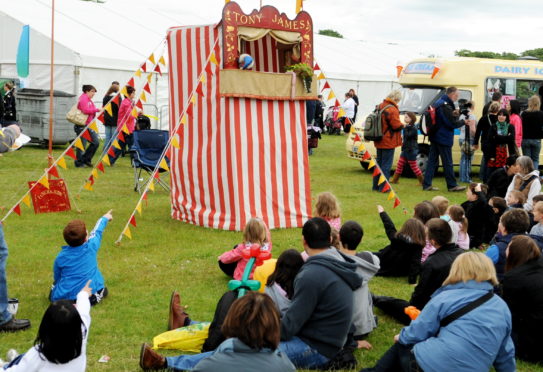 A Punch and Judy booth, a 10ft tall model of the Loch Ness Monster and even a bewildered great-granny were all left behind by forgetful hotel customers last year.
Staff found the puppet booth in a room at the Travelodge hotel at Bucksburn, while 150 pieces of shortbread to be used as wedding favours, a set of company accounts and a lucky 20-year-old pen were among other items left behind at the chain's premises in Aberdeen.
Travelodge yesterday revealed the litany of bizarre items which made their way into its lost and found collections during 2018.
A chatty parrot named Braveheart was left at a hotel  in Edinburgh, and two Scottie dogs called Hamish and Ramsey were less than impressed when their owner rushed off from a hotel in Falkirk without them.
The owner only realised she had accidentally abandoned her four-legged friends when she was "halfway down the motorway" and had to hurry back to retrieve them.
However, an even more unusual "item of lost property" was recorded in Perth when staff at the Travelodge on the A9 road found a great-granny had been left behind.
The pensioner, by the name of Agnes, was to be the guest of honour at a family reunion in the city, but her loved ones managed to forget to bring her along to the bash.
They only noticed the mistake, and hurried back to the hotel to collect her, after arriving at the celebration.
Travelodge spokeswoman Shakila Ahmed revealed the "range of fascinating items" yesterday.
She said: "When it comes to why so many customers forget their treasured items, there is one common theme and that's living in a fast and furious world.
"Interestingly, as we have more business customers staying with us than ever before, we have seen a rise this year in important business papers, and lucky business charms being left behind in our hotels."
One such item was a Mont Blanc pen, which a superstitious businessman had to return to the Aberdeen Central hotel on Justice Mill Lane from Heathrow Airport in London to pick up.
It transpired that the item of stationery was his "lucky pen" of 20 years, and he refused to sign an important deal with anything else.
Meanwhile, employees at the Peterhead hotel arranged for a "large van" to safely transport a child's model of the Loch Ness Monster to a competition after the 10ft replica was left behind.