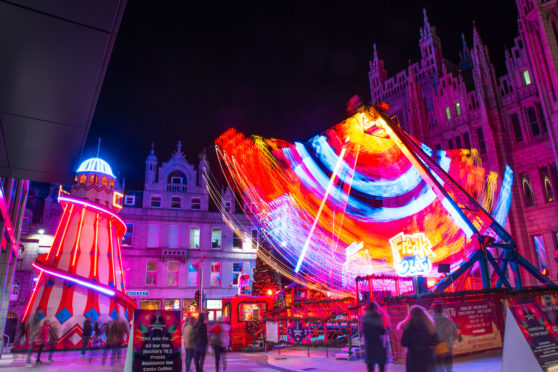 Aberdeen's Christmas village attraction broke records last year- with 200,000 more people visiting than in 2017.
Led by Aberdeen Inspired with Aberdeen City Council and Codona's, an estimated 631,000 people visited between November 22 and December 31.
This year, the seasonal event focussed on supporting local traders, with stalls offered free of charge to 70 traders as part of Christmas in the Quad.
Adrian Watson, chief executive of Aberdeen Inspired, said: "Our raison d'etre as an organisation is, of course, to increase footfall in the city centre and we welcome the record figures for the Aberdeen Christmas Village, which are the highest we've ever recorded by some way.
"The village is a maturing product, and we have tried to be more local by giving a bigger focus to that in the 2018 offering, and draw people from the city, shire and further afield to our regional capital."
Council culture spokeswoman Marie Boulton said: "These figures highlight the popularity of the seasonal experience for people both local and from further afield, with more visitors coming to the Christmas Village.  As well as being huge fun it's also great for the city centre economy."
Jackie Wilson, co-owner of Upperkrust Aberdeen, said: "We thought the Aberdeen Christmas Village was a brilliant event to have on our doorstep. It brought both increased business and footfall, and also really brightened up the area."
Rachel Nowak, managing partner of The Damside, a family run business which took part in Christmas in the Quad, said: "It was also an invaluable experience for us as it exposed us to potential new clients, which could make a huge difference to our company in terms of revenue."