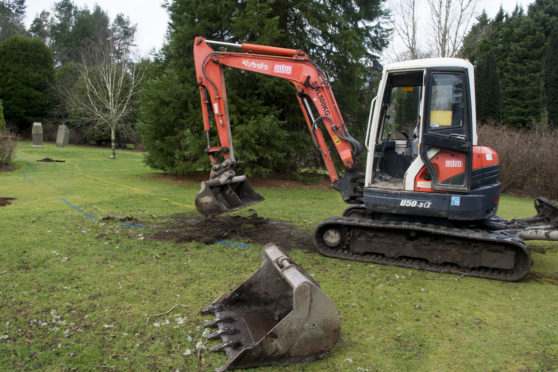 Work has begun on a permanent memorial garden for families affected by the baby ashes scandal at Aberdeen's Hazlehead crematorium.
The new piece taking shape at Hazlehead Park has been designed by TGP Landscape Architects and the features include an arched entrance, several seated areas and a grass circle with a sculpture as the main feature.
A private area has also been built into the plans where the bereaved can also have the names of their babies permanently inscribed on rectangular metal plates.
---
>> Keep up to date with the latest news with The P&J newsletter
---
Maja Quille was chosen as the artist for the bronze sculpture which will stand almost six feet high in the garden.
Her flowing design of flying birds enclosing a seat was chosen from a shortlist of four after 20 people submitted designs for the sculpture.
The city facility was at the centre of national headlines after it emerged that baby and adult ashes were routinely mixed together in 2013 – with parents often told that infants did not produce ash – and the remains not returned to grieving families.
Kinellar firm MTM Construction has been appointed to carry out the work.
Architects prepared designs and then consulted with a working group to develop its preferred option.
The area chosen in Hazlehead Park for the garden and sculpture is a secluded quieter area, away from the main park.
Roddy Mitchell, construction director at MTM Construction, said: "We feel privileged to carry out the work on the garden as we know how much it will mean to the people affected, particularly as we are a local firm.
"We hope it will continue to be a mild winter and we can get ahead with the work however even if we do get some bad weather yet, our aim is to get the garden finished as soon as possible to the highest standard."
Hazlehead, Queens Cross and Countesswells councillor Martin Greig said: "It is reassuring to know that this work is being carried out in close collaboration with representatives of the families who have been affected.
"Their contribution is essential so that the memorial is fitting and dignified.
"The space that is being designed should be a place for peaceful reflection.
"Hopefully this will be a special area that will offer some degree of comfort."
The background
The city crematorium was heavily criticised after it emerged that baby and adult ashes were routinely mixed together in 2013 following an independent probe conducted by Dame Elish Angiolini.
Parents were often told that no ash was produced during the cremation process involving babies under the age of two and no remains were returned to those families.
A nationwide investigation was launched after it emerged that staff at Mortonhall Crematorium in Edinburgh mixed the ashes of stillborn babies with those of adults before burying them in the garden without their families' consent or knowledge.
An audit by Aberdeen City Council found up to 40 babies' ashes may have been scattered in Hazlehead's Garden of Remembrance without families being consulted.
Distraught parents called for more transparency from the local authority.
The council has since paid out more than £100,000 in compensation and former infrastructure chief Pete Leonard eventually resigned following a lengthy period of sick leave after his comments on the "slow cooking" of babies came to light.
The crematorium manager at the time of the scandal Derek Snow was also sacked in 2014.
By 2016 it appeared that practices at the facility had significantly improved, but there was still concern following an inspection report that employees at the crematorium appeared to view themselves as the "victims".
But last May a report into the facility was said to have "restored public confidence".
Robert Swanson QPM, inspector of crematoria for Scotland, delivered a glowing review which found there to be "no shortcomings" in the crematorium's procedures and that staff had "overcome hurdles set by their predecessors".