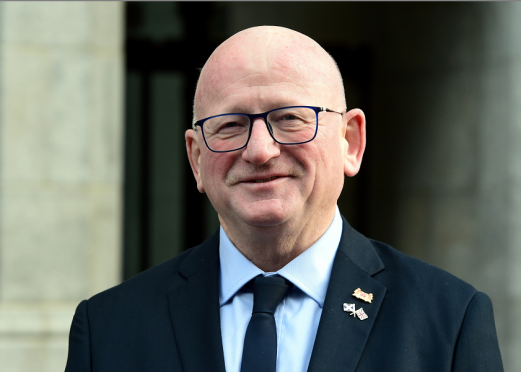 The SNP in Aberdeen has called for the city's depute provost Alan Donnelly to be suspended from his party's group, following allegations of sexual harassment.
A police probe is underway into claims the Torry and Ferryhill Conservative behaved inappropriately towards a man last November at a civic function on Holburn Street.
The Scottish Conservative Party has suspended him while the police investigation takes place, but the Tory group leader on Aberdeen City Council, Douglas Lumsden, has insisted he will remain a member of the ruling administration.
EXCLUSIVE: Leading Aberdeen councillor suspended from party as police investigate sexual harassment complaint
However, he has prohibited him from carrying out any civic duties in his depute provost role and SNP group leader Stephen Flynn has now urged Mr Lumsden to reconsider that decision which he described as inexplicable.
He said: "It is incomprehensible that councillor Donnelly can be suspended from the Tory party yet be allowed to remain a leading figure in their council group, and administration.
---
>> Keep up to date with the latest news with The P&J newsletter
---
"Beyond that, members of the public have already expressed their complete confusion as to how the Tory Council Group can see fit to apparently ban councillor Donnelly from his civic duties yet retain him in his prominent role as depute provost.
"Despite the nature of these allegations being extremely serious, the Tories at a national level seem to be at odds with their local council group as to what course of action should actually be taken.
"At this stage, the Conservative Party need to explain to the people of Aberdeen why a leading politician can be suspended from their party yet retain their standing, and position, in a local council group."
Any removal of Mr Donnelly from the ruling administration would probably lead to a complete overhaul of the council's committees, tipping the balance in favour of opposition members.
The ruling Conservative, Aberdeen Labour and Independent coalition has a wafer-thin single member majority over the opposition groups.
Mr Donnelly has previously faced allegations of inappropriate behaviour.
In 2001, he was fired from his social work job after it emerged he bought a registered sex offender a drink in a gay club.
Mr Donnelly met the man, a registered sex offender, while helping to look after him at a hostel in the city.
St Fitticks hostel in Torry was used as a halfway house for offenders who have just been released from prison.
In a varied working life, Mr Donnelly has held posts in the Merchant Navy, Aberdeen Airport and the rail service.
Pranksters order £100 worth of Domino's pizzas to Aberdeen councillor's door
Mr Lumsden, leader of the local authority's Tory group said: "I won't be taking advice from the SNP on how to handle this incident after the chaos we have seen in their party over the Alex Salmond allegations.
"You would think Stephen Flynn would respect due process instead of looking for political gain and a press release.
"Councillor Donnelly has not yet been charged nor been spoken to by the police about the allegation.
"We will continue to assess the situation as it develops, and take appropriate actions."