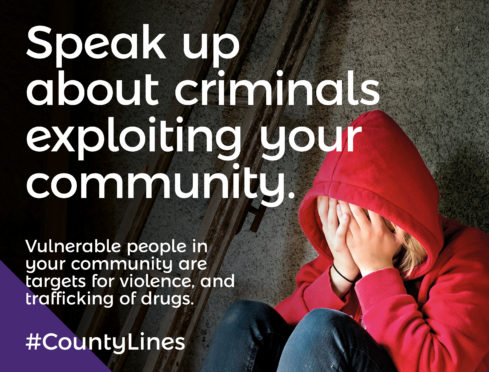 A campaign to protect vulnerable communities from drugs being brought to Scotland by English gangs has been launched.
Crimestoppers wants to…
The campaign aims to raise awareness of County Lines, which is when criminals from major cities such as Liverpool, Manchester, London and Birmingham expand their drug networks to other areas – bringing with them associated crimes such as violence, exploitation and abuse.
The term County Lines refers to the use of a single telephone number to order drugs, operated from outside the local area.
The gangs, known as syndicates, send a group of three or four dealers to an area – often towns like Peterhead and Fraserburgh – where they know they will not be recognised.
Last summer the Press and Journal revealed gangsters hailing from the Liverpool area were behind the majority of the north-east's organised crime.
Chief Superintendent Campbell Thomson said previously that over the past 20 years, serious crime groups operating in the city and wider north-east had been "predominantly" from England's north-west.
Just months later the police force vowed to help about 30 people in Peterhead who were being exploited through "cuckooing".
The practice involves criminals forcing their way into peoples' homes and using them as a base for expanding their operations in the area.
The perpetrators use fake names and move from one property to the next in rapid succession, making it difficult to catch them in the act.
The County Lines campaign will use a series of "spot the signs" posters, postcards and social media tools to help raise awareness of the issue across Scotland.
Angela Parker, Scotland national manager for Crimestoppers, said: "County Lines isn't necessarily a term people are familiar with, but as a charity it's important we raise awareness of this issue and help tackle it.
"Gangs coming into our communities here in Scotland, particularly the north-east, are not welcome.
"We want to ensure that if they do decide to set-up their operation here, that your information can help get them removed and keep communities safe."
As part of the campaign, visits to secondary schools will be carried out to make young people aware of the issues and encourage them to report anything suspicious.
Detective Chief Inspector Mark Bell said: "We are working with our partner agencies such as Crimestoppers charity to identify and support those in our local communities who are being manipulated by those solely driven by financial gain.
"Our local communities do not want these individuals and we take robust action to disrupt the harm they cause."
Anyone with information that could help the County Lines campaign should call 101 or Crimestoppers on 0800 555111.