A big freeze is on the way for the north and north-east of Scotland as temperatures plummet this week.
The mercury is due to dip starting on Thursday and snow will be possible as "colder than average" temperatures take hold.
This weekend's weather will mark the start of a major cold spell due to cause bitter weather throughout the final weeks of January and into early February.
Although despite the change, Met Office forecaster Aidan McGivern has said it will be closer to a "typical January" than last year's Beast from the East.
The Met Office's long range forecast for January 28 until February 11 states: "For the end of January and into early February, there is an increased likelihood of cold weather being established across all of the UK, with temperatures continuing a downward trend to become cold or very cold.
"This would bring a greater risk of snow, ice and widespread frost, particularly across northern parts of the country."
It adds: "There remains uncertainty over the extent of the cold weather and how long it will last."
Met Office meteorologist Martin Bowles said, while Tuesday and Wednesday will be fairly mild, temperatures will be on their way down this week.
He added: "Temperatures are going to be on their way down in the next few days. We do expect generally over the next fortnight or so colder temperatures than we have had.  It is difficult to know to what extent that is going to affect us.
"We are thinking the maximum temperatures at the end of this week are likely to be 2C-3C on the coast and around zero in the lower Highlands."
He said that this weekend will "certainly be cold enough for snow".
"I think it is reasonable in that on Friday night there will be some snow in Scotland but we don't know how much of it will settle," Mr Bowles added.
"It is going to be a cold air mass moving in from Wednesday. It will bring a lot more moisture. There will be some snow perhaps with enough for accumulations on the hills.
"If we think there is anything severe we'll be issuing weather warnings."
It comes after the return of sudden stratospheric warming (SSW) – described as a "swift jump in temperatures" in the stratosphere – took place at the start of 2019.
GALLERY: A look at what the north-east woke up to this morning as the Beast from the East starts to appear
SSW is more often than not followed by a cold spell and is what caused extreme weather during the Beast from the East from late February into early March 2018.
Mr Bowles said the Met Office has not ruled out SSW playing a part in the conditions across Scotland in the coming weeks.
He added: "It may be linked to SSW. The actual SSW has already taken place, it took place at the turn of the year.
"That has a tendency to lead to cold weather in Scotland but doesn't necessarily."
Heavy snowfall and extreme winter conditions have also left people stranded and cut off in countries including Germany, the Czech Republic and Austria in recent weeks.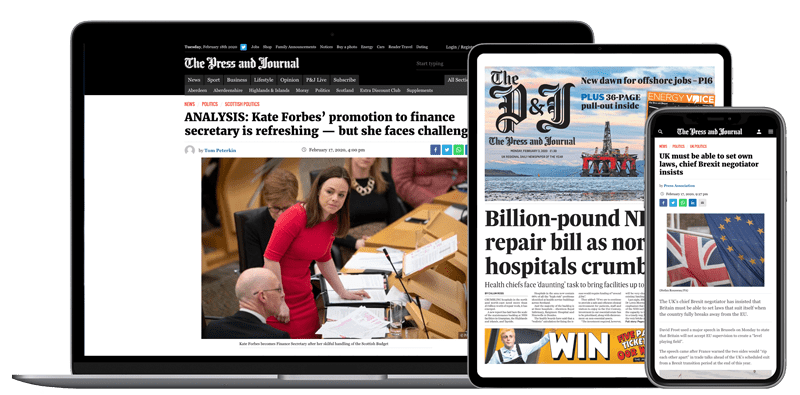 Help support quality local journalism … become a digital subscriber to The Press and Journal
For as little as £5.99 a month you can access all of our content, including Premium articles.
Subscribe