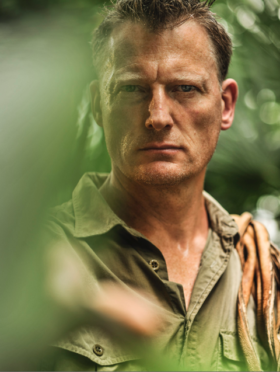 A courageous adventurer who hit headlines across the globe after he went missing in the jungles of Papua New Guinea will return to his old university in Aberdeen next month to inspire a new generation of students.
Writer, broadcaster and explorer Benedict Allen failed to turn up for his flight home from the jungles of the Pacific country on November 27, sparking a major operation to safely locate him.
He had been visiting Papua New Guinea to connect with the isolated Yaifo tribe, who he had last made contact with 30 years earlier– in doing so becoming the first person from the outside world to make recorded contact with the isolated community.
Mr Allen, who had been travelling alone without satellite phone or global positioning technology, faced bouts of malaria and dengue fever, tropical storms and the threat of tribal war as he awaited rescue.
Aberdeen University alumnus, Mr Allen, will tell tales of his ill-fated expedition on Monday February 4 at the university's New King's College.
His visit is part of a series of talks organised by the Royal Scottish Geographical Society (RSGS).
Mr Allen said: "I'm so looking forward to coming back to Scotland as part of the RSGS Inspiring People talks programme to speak about my life on the edge – and particularly, the true story of what really happened when I disappeared in Papua New Guinea last year.
"It was from Aberdeen, completing university there, that I launched out on my first major expeditions, so it's great to be coming back.
"I feel it's my job to inspire people to believe that they too are explorers.
"There's so much gloomy news about, yet there are so many exciting discoveries to be made, whether in the highlands of Scotland, or the highlands of Papua New Guinea."
---
>> Keep up to date with the latest news with The P&J newsletter
---
During his first meeting with the tribe, three decades ago, Mr Allen he took part in a brutal male initiation ceremony.
Lashed with bamboo and force fed, the six-week ordeal saw him lose two pints of blood as 'crocodile scars' were permanently impressed on his skin.
But it was not just physical marks that were left on Benedict from this experience – he was left emotionally connected to the group.
And in his own words, he simply wanted to head back into the jungle to see if they were 'alive and well'.
Mike Robinson, the chief executive of RSGS said: "Papua New Guinea is a geographically diverse and fascinating place, noted for its thick jungles, volcanic activity, rugged coastlines and diverse culture and language.
"Throughout his career, Benedict has shone a light on this intriguing corner of the Pacific and the ancient communities that have developed here.
"I hope the stories Benedict shares in Aberdeen will encourage people to learn more about groups such as the Yaifo people, and his adventurous spirit and curiosity will rub off on the audience.
Tickets are available for purchase in advance from www.rsgs.org, but a limited number will also be available on the door.
Entry is £10 for adults, £8 for Tiso outdoor card holders and free to RSGS members, students and under 18s.