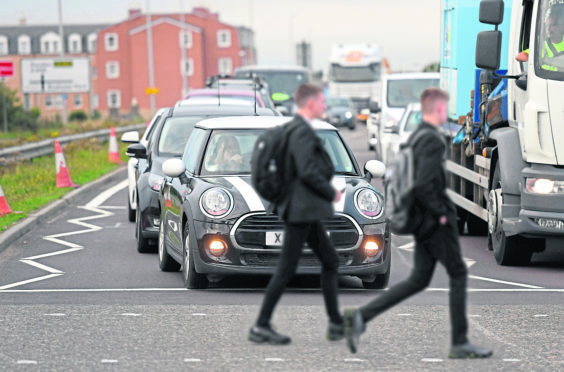 Children were forced to rush alongside a busy Aberdeen road to reach school when a bus driver failed to pick them up after "taking a wrong turn and getting stuck".
Youngsters in Torry were left with little option but to make a frantic dash along Girdleness Road to reach Lochside Academy, a new £47 million school in Cove, when they feared they would be late for classes.
After the driver reported getting into difficulty to bosses at First Bus, another vehicle was sent to pick up any remaining children – which arrived 20 minutes late.
---
>> Keep up to date with the latest news with The P&J newsletter
---
The blunder, which took place on Wednesday, was followed by a second on Friday where a bus failed to turn up at Grampian Place to take children to the school.
Torry and Ferryhill councillor, Christian Allard, described seeing children "running alongside Girdleness Road thinking that they had missed the bus", while others were" on the phone to their parents asking for help" after the incident on Wednesday.
Mr Allard said: "Parents will rightly be concerned that twice last week anxious pupils waited for a bus that did not turn up. One bus was 20 minutes late, the other missed a stop completely.
"It is absolutely vital that this does not become the norm – after all, there is no safe walking route from Torry to Lochside."
Council officers advised Mr Allard that the authority was made aware of "an issue" on the 22A service on Wednesday which First Bus will be "sanctioned" for.
The response sent to the SNP councillor said the driver "had taken a wrong turn getting to Leggart Terrace and got stuck".
Mr Allard said that children at Grampian Place had reported being left "stranded" on at least three occasions since Lochside Academy opened.
Officers have now vowed to monitor First Bus to prevent any more errors from occurring.
The response sent to Mr Allard stated: "We are aware that First has undertaken a lot of work with drivers and it is regrettable that there are still some things going wrong, and we expect First to address this.
"Services to Lochside are still subject to ongoing monitoring, both by the council and the school and improvements will be made as required."
David Phillips, Operations Director for First Aberdeen, said: "I can confirm that on one occasion last week, a bus due to serve Lochside Academy on the school run was delayed due to a combination of the impact of revised diversions at the other end of the city as well as some confusions from our driver with the new AWPR section of the route.
"As a result, we had to send out a duplicate service to cover the remainder of the route.
"The depot operations team were in regular contact with the school to keep them informed throughout as the situation developed, meaning we were quickly able to rectify the situation.
"We will be conducting further route learning training with staff to address issues concerning changes to the route brought about by the new AWPR, which should help us to avoid a repeat of this incident.
"I would like to apologise for any inconvenience caused by the delays, but one of the issues that we cannot control in the operations of our services is congestion and unplanned road traffic diversions."