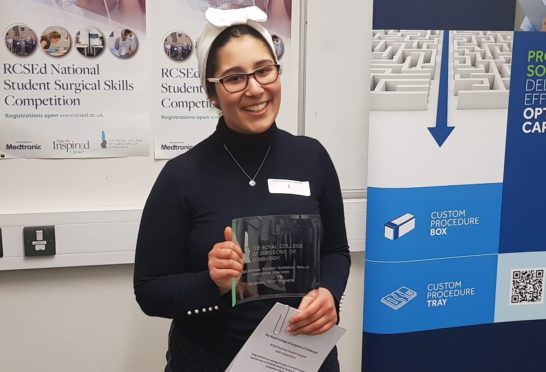 An Aberdeen University student has showed her prowess in a surgical competition.
Yesterday the Royal College of Surgeons of Edinburgh (RCSEd) announced the heat winner of nationwide Surgical Skills Competition, which celebrates future stars of the surgical field.
Following a tension-fueled contest hosted at Aberdeen University Hospital, Nour Abdel-Fattah, a final year medical student from the university, was selected as the heat winner.
Ms Abdel-Fattah said: "The atmosphere was very friendly and relaxed.
"The faculty members were very welcoming and by no means lacking in encouragement.

"There was a good mix of tests, some of which were certainly enjoyably challenging – and it was a real reminder of why I first became interested in surgery.
"I am really proud to have been granted the opportunity to represent the Aberdeen University and its Ogston Surgical Society in the final."
Ms Abdel-Fattah and the winners from each region will travel to Edinburgh on 16 March, at which the top 20 finalists will undertake a broad range of surgical procedures before determining who will be make the cut to become the overall winner presented at the Grand Final.