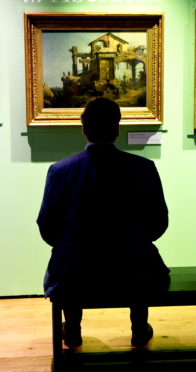 A painting which spent centuries at Aberdeen University before its legendary origins were revealed has gone on public display for the first time in living memory.
Art enthusiasts were amazed last year when studies confirmed that a piece which had been in the university's collection since 1863 was in fact painted by Venetian great Canaletto – and worth an estimated £2million.
It was long considered that the artwork, named Ruins of a Temple, was merely influenced by the Venetian.
---
>> Keep up to date with the latest news with The P&J newsletter
---
But the university's senior lecturer in art history, John Gash, had always believed it was the real deal and drafted in specialists to confirm his suspicions.
Yesterday, Mr Gash described Canaletto as "one of the greatest painters of the 18th century" as he celebrated the launch of the exhibition.
During his research on the painting, Mr Gash read an 1865 article from the Aberdeen Journal – the predecessor to the Press and Journal – which explained the picture was left to the university two years previously by Alexander Henderson of Dyce, together with other paintings and an internationally-important collection of ancient Greek pottery.
Giovanni Antonio Canal, who was better known as Canaletto, lived from 1695 to 1798.
Many of Canaletto's paintings depicted the famous canals in Venice, but the piece on display is a capriccio, an architectural fantasy placing together buildings and ruins in imaginary settings.
The imagined scene shows a ruined classical temple on the outskirts of a city, perhaps based near Rome, with small figures of people living among the ruins and carrying out everyday acts such as hanging out clothes to dry.
Art enthusiasts will be able to view the painting alongside other related works.
The View of the Grand Canal with San Simeone Piccolo and the Scalzi, attributed to Canaletto's father Bernardo Canal, and a recently acquired impression of Canaletto's most famous etching, The Portico with a Lantern, are also on display.
Organiser, Christina Mackenzie, said: "The exhibition is something a little different to others we've done in the past, it's only going to be on display for five weeks and focuses on one artwork.
"The discovery that this piece is an original Canaletto is fantastic, it's great to be able to put it on display for the public."
The exhibition will be staged on the ground floor of the Sir Duncan Rice Library on Bedford Road between 9am and 5pm from Monday to Friday until Friday, February 22.