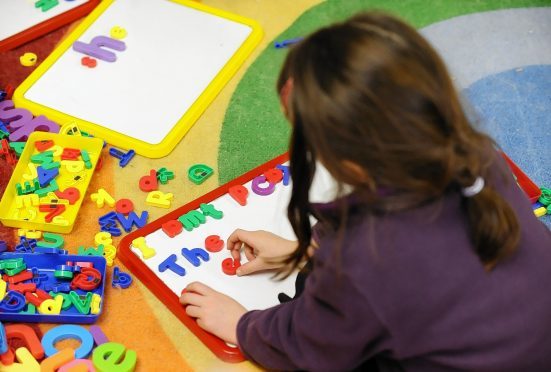 An Aberdeenshire teacher has claimed controversial primary tests "disrupt" the help being given to children with Additional Support Needs.
The anonymous teacher has submitted evidence to Holyrood's Education Committee which also suggests Scottish National Standardised Assessments (SNSA) demotivate, demoralise or bore children.
The individual, who specialises in teaching ASN children at a 350-pupil school, is one of several teachers to have given statements to the committee, ahead of a meeting tomorrow.
The committee will discuss the tests, which are sat by pupils in primary one, four, seven and S1. The tests for four and five-year-olds has proved particularly controversial with their critics arguing they put unnecessary stress on young children, are time consuming for teachers and do not give an accurate picture of a child's progress.
Education Secretary John Swinney has faced calls to scrap the P1 tests. Aberdeen City Council signalled its wish to abandon them.
The Aberdeenshire teacher said: "Since SNSAs have been introduced… I have had to stop my timetable of additional support to carry out P1, P4 and P7 SNSAs according to the 'window' of time we are given by Aberdeenshire Council to complete them. My understanding is that we should not be testing whole cohorts of pupils in a week/ two week but that is what I am being asked to do. The disruption to pupils in need of additional support is unfair."
The teacher disagreed that the tests were stressful for pupils, but added: "If anything I think they feel the content is too much and too lengthy, particularly in the reading assessments. The texts don't appear to adapt to the child's level very quickly, with some pupils presented with several lengthy chunks of texts that must demotivate, demoralise or just bore them.
"I'm sure when presented with such texts some pupils become 'click happy' just to move on and, as I have witnessed, if they then randomly choose the right answer the assessment results will not be accurate."
Scottish Labour's education spokesman, Iain Gray MSP, said: "Parliament voted to end these tests for primary one pupils last year. Sadly, Mr Swinney opted to ignore the result and views of teachers across the country.
"With the education committee finding yet more evidence of the negative consequences of the SNP government's testing regime, Mr Swinney should respect the will of the parliament, scrap these tests for P1s, and review them at P4, P7 and S3 levels."
A Scottish Government spokesman said: "Scottish National Standardised Assessments (SNSA) were specifically designed for the Scottish curriculum and as such should complement, rather than distract from, core learning. Assessments provide teachers with objective, nationally consistent information related to everyday learning.
"The Scottish Government does not prescribe the time of year the standardised assessments should be carried out. That decision is for teachers and schools, in consultation with local authorities and takes into account children's individual needs and priorities, to ensure assessments are a positive experience for all.
"This year we have begun gathering direct feedback from children and young people in P1, P4 and P7 when they do the assessments – so far they have been overwhelmingly positive about their experience.
"But it is important to further evaluate how the assessments are working, which is why the Scottish Government decided to commission an independent review of P1 assessments to reconsider the evidence."