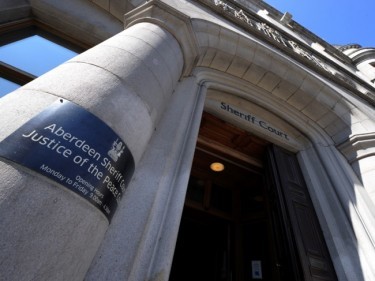 A man who attempted to rob an Aberdeen store while wearing a mask and wielding a wrench has been jailed.
Ryan Henderson walked into the Premier Store on Hilton Road at about 7.40am and approached an employee.
He brandished a wrench at him and struck him on the head before his victim activated the panic alarm.
Henderson then fled from the scene in a car and was later detained on Provost Rust Drive.
He struck again on Crown Terrace just days after being released.
He approached a man and asked the time and when the man got out his mobile phone he attempted to seize it.
A struggle ensued and another thug turned up at the scene and grabbed the victim by the stomach.
Henderson brandished a pen and put it to his neck.
They made off with his mobile phone and bank cards as well as the food he had just purchased.
Henderson admitted a charge of assault and attempted robbery and being in  possession of a wrench on October 23 last year.
He also admitted carrying out the assault and robbery on November 11 during an appearance at Aberdeen Sheriff Court yesterday.
Representing the 30-year-old, defence lawyer Laura Gracie said her client had been "fairly realistic about the whole process."
She said he had turned to drug use after a relationship broke down and had no recollection of striking the employee at Premier Stores and was horrified when she told him CCTV showed this was what had taken place.
Sheriff Morag Mclaughlin jailed Henderson, whose address was given as HMP Grampian, for 18 months.