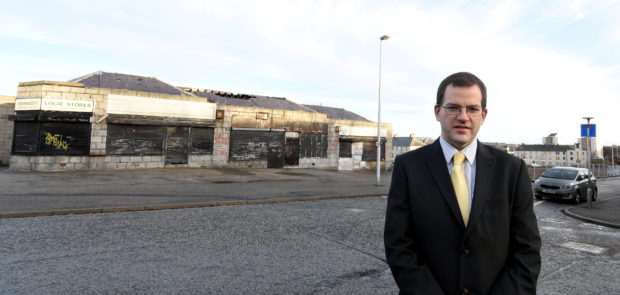 An Aberdeen MSP has urged developers to consider adopting an abandoned "eyesore" arcade of shops as part of their plans for city's Haudagain triangle area.
Dandara last week revealed multi-million pound proposals for nearly 300 homes, shops and offices for the area after the long awaited through-road is built to reduce traffic pressure in the area.
Aberdeen Donside MSP Mark McDonald has previously urged the city council to use compulsory purchase orders to buy the Logie shops – which have been empty for years and frequently targeted by vandals – and demolish them.
The local authority said that the arcade is currently on the market.
Now Mr McDonald has written to Dandara to see if they will adopt the shops into their plans.
He said: "It is in everyone's interest that the Logie Shop eyesore is dealt with, and if this is able to be solved by Dandara in their development plans that would be great.
"While the shops currently sit outside the land included in the Middlefield triangle, it would not be a stretch for them to be brought into its scope and I hope to discuss this with Dandara to see if they are able to offer a positive solution to an issue which has caused a headache for my constituents for many years."
Dandara were contacted for comment.