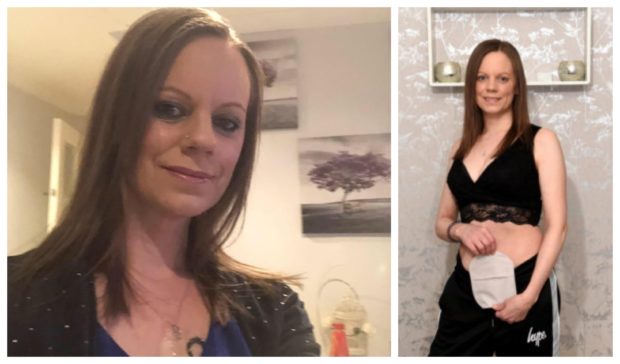 Just a few years ago, Lesley Lewis was a busy working mum with a good job in the oil and gas industry.
But she endured "two years of hell" through bowel problems which began in 2016, and last year doctors took the drastic step of fitting her with a stoma – a small opening in her stomach with a pouch attached to collect bodily waste.
The 42-year-old, who lives in the Bridge of Don area of Aberdeen, admits that she still struggles to come to terms with the stigma surrounding the equipment which has become a part of her life and left her largely unable to work.
Huntly woman with stoma to take on fashion show to break the stigma
Having been inspired by recent media coverage of other women in the region with similar problems, she is now determined to set up a support group for people with stoma bags to meet and share their experiences with one another.
And Mrs Lewis believes that, while acting together, such a group could achieve much when it comes to improving society for people with conditions which mean they require a stoma.
She said: "It is great that people are speaking out to raise awareness and reduce the stigma, but there is little support in the north-east.
"I want to form a group for people with conditions like mine, and encourage people to come forward to talk about it.
---
>> Keep up to date with the latest news with The P&J newsletter
---
"There is no difference between us and other people, it's just that our plumbing has been rewired.
"But we can have embarrassing accidents, and some people refuse to tell even their nearest and dearest that they have the bags.
"It is a life-changing procedure, and the mental side of it is really hard to cope with. I am still mentally struggling though I push myself as much as I can.
"I want people to know there is a safe place where they can talk about things, where they won't feel ashamed."
Mrs Lewis believes disabled toilets should be made more friendly towards people with colostomy bags, with the addition of shelves to place them on when necessary rather than having to set them on the floor.
This is something she is hopeful that the group could ultimately campaign for.
Mrs Lewis's stoma procedure was performed in September, representing the end of a "really long road" for the mum-of-one.
She said: "I had almost 20 surgeries because of abscesses, it was two years of hell."
When her health began to suffer, she began working from home by setting up an entertainment firm which provides attractions at social events though her husband does the physical work involved.
Buts she also relies on benefits to get by as she is unable to work like she used to.
Ms Lewis added: "It is a struggle to come to terms with, but helping to raise awareness makes me feel more confident."