A group of rowers have been rescued from the icy waters of the River Dee this afternoon.
The team of five women got into difficulty just before 3pm after their boat capsized.
They managed to clamber onto the upturned hull of the boat to await rescue.
The drama unfolded near to Aberdeen's Victoria Bridge.
A spokesman for Aberdeen Coastguard has confirmed all five were recovered by the harbour pilot boat and they are now safe and well.
Ambulance crews met the five casualties on Waterloo Quay, where they were checked over, no-one was injured.
The Bond1 helicopter had been out on a training exercise at the time with a doctor on board and was sent to the scene as a precaution.
The spokesman said: "We were called out to help a boat with five persons, on the River Dee, which had over-turned.
"The five people had managed to get up on top of the boat. The pilot boat from the harbour met up with them and they were recovered onto the pilot boat.
"The Aberdeen lifeboat and the Coastguard boat were also called out.
"The five people were taken to the Lifeboat house on Waterloo Quay, where a Scottish Ambulance Service team were waiting for them.
"There was also a doctor on board the Bond 1 helicopter, which had been out on exercise, meaning it had been able to respond quickly.
"All five persons are okay. They had been on a rowing boat, from one of the rowing associations in Aberdeen."
A RNLI spokesman confirmed the rowers were all female and added: "The rowing crew had capsized while turning their boat upstream of the bridge and were drifting downstream into the harbour.
"The crew of four young rowers and their cox had partially self-rescued by climbing onto their inverted but inherently-buoyant rowing boat and were sitting clear of the water, awaiting help.
"Aberdeen Harbour's pilot cutter was operating nearby and was quickly on the scene to assist: the girls were taken on board the pilot cutter just as the inshore lifeboat launched, and also as Rescue Helicopter Bond 1, which was airborne on a training exercise locally, arrived and winched their doctor down to provide further assistance if required.
"The 5 girls were handed into the care of the Scottish Ambulance Service at Aberdeen Lifeboat Station.
"With the girls safely ashore, the inshore lifeboat recovered the rowing shell, which had by now drifted down through the harbour, and returned it to the rowing club."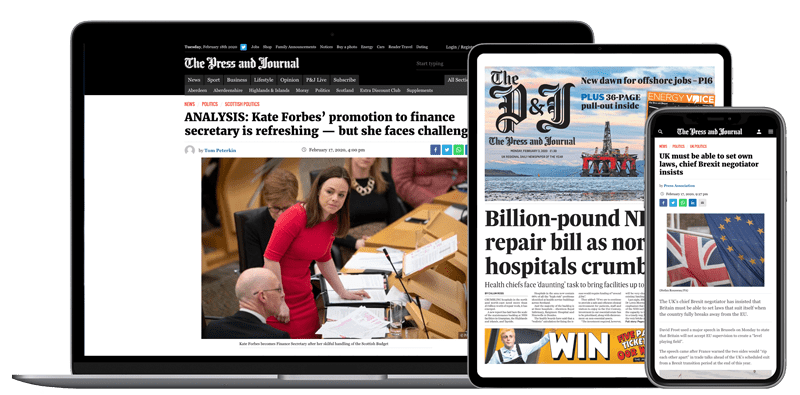 Help support quality local journalism … become a digital subscriber to The Press and Journal
For as little as £5.99 a month you can access all of our content, including Premium articles.
Subscribe