Banner calling for resignation of Aberdeen MP Ross Thomson erected on public footbridge
A banner calling for the resignation of Aberdeen South MP Ross Thomson was posted outside his office and is now understood to be hanging on a city footbridge.
The sign with the message: "Ross Thomson MP resign now: Aberdeen South Useless Gype" could be seen hanging outside the front of his Holburn Street office.
It has since been removed, and was last seen on the Holburn footbridge.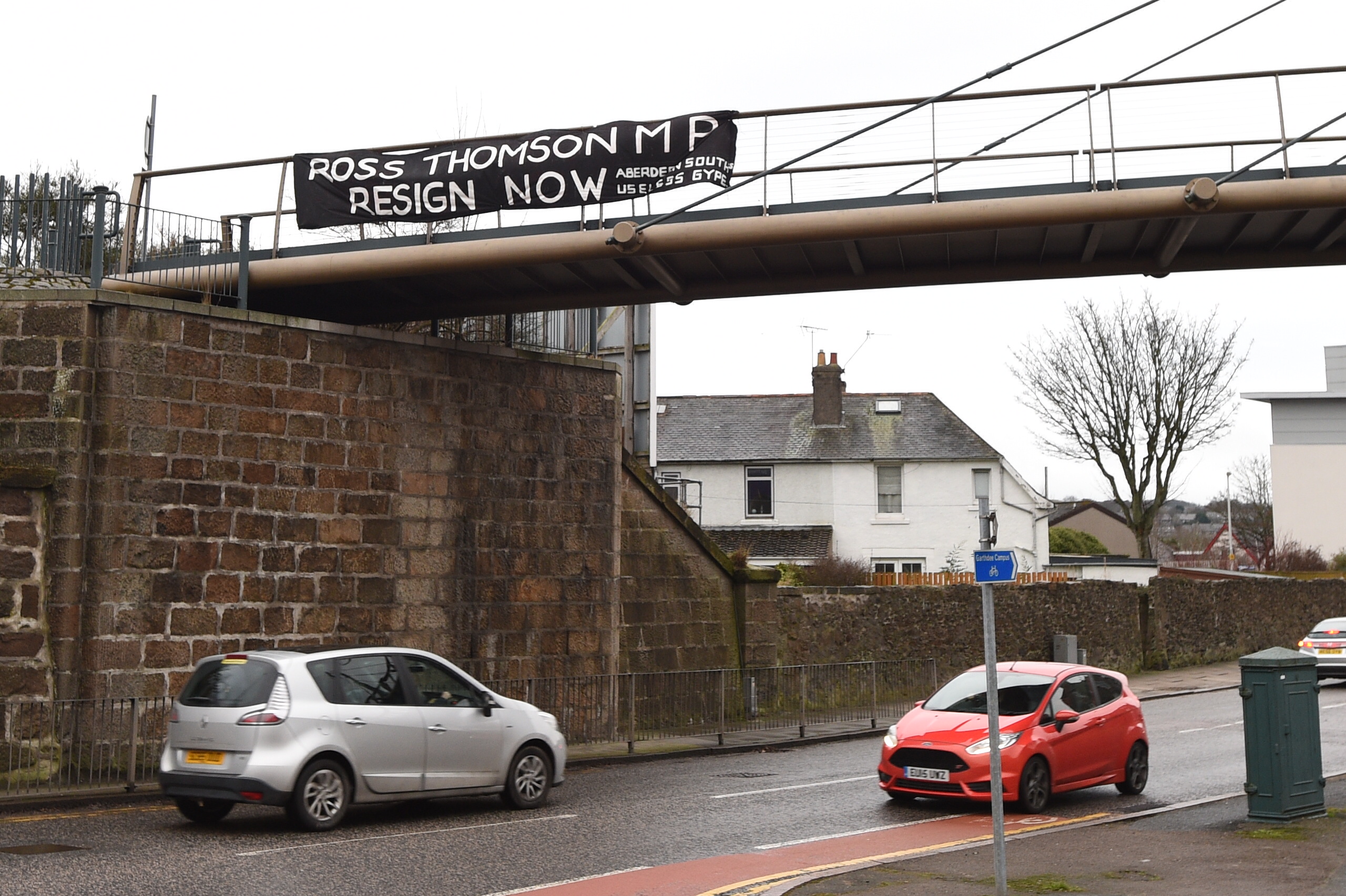 A Scottish Conservative party source blamed "hard-line nationalists" for the banner, they said: "Ross is in Westminster, so the only people affected by this are those who are employed by their local MP and constituents who need help and advice."
Mr Thomson said the banner undermined efforts to create a "safe, open and accessible place" for the public.
He said: "The main purpose of my office is to provide advice and support to members of the public on a range of issues.
"These kind of displays undermine efforts to create a safe, open and accessible place for people to visit when they are in need of help.
A petition has also been launched online calling for the Conservative MP to resign. It currently has 616 signatures.
The petition reads: "Ross Thomson is not fit for public office.
"His external actions such as the recent 'groping' incident is disrespectful towards the public and this is not the figurehead or publicity sought for the area.
"Thomson should accept his failings and resign if the Conservative party are too weak to pursue the rightful disciplinary action."
This comes after Metropolitan Police were called to investigate reports of "sexual touching" at the exclusive Strangers Bar in Westminster.
The incident is understood to have taken place at around 11pm last Tuesday.
Mr Thomson has denied the allegations but it is understood that an official complaint has now been lodged with the parliamentary commissioner for standards.