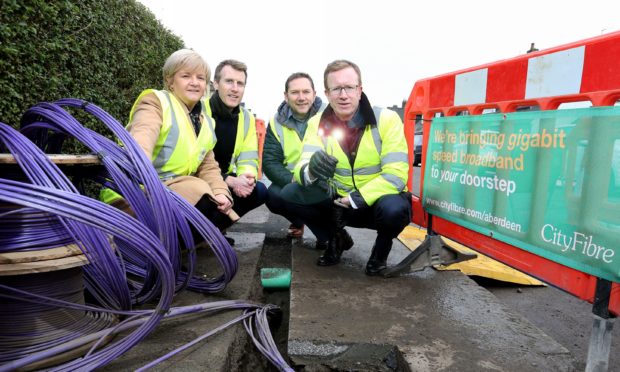 The man leading a "broadband revolution" in Aberdeen has said the city could reach connection speeds comparable to Japan and South Korea in the coming years.
CityFibre is investing more than £40 million in the city to bring gigabit-speed connectivity to the city as part of a partnership with Vodafone.
Aberdeen is the first city in Scotland to benefit from the scheme, which will see new fibre cables laid, and work is largely complete in the Kincorth and Northfield areas.
Those behind the project anticipate 80,000 homes and firms will be connected by 2021.
Allan McEwan, CityFibre's city development manager for Aberdeen, said that with the new wiring, entire television series could be downloaded in seconds.
With the improved technology, it is estimated £50 million could be generated through new businesses start-ups and £51 million from increased productivity within existing firms.
The UK has lagged behind many countries in recent years due to the historic copper cable wiring prevalent through the country.
Broadband connections in the Far East are particularly speedy, with Japan and South Korea enjoying near 100% fibre coverage – compared to the UK's less than five or six percent.
Mr McEwan said: "Just now, most connections are driven by copper cables that have been underground for decades.
"They offer speeds of about 13.5 megabits per second, while full fibre allows for 1,000 per second.
"We are essentially developing alternative infrastructure so that in the coming years we could be looking at the speeds enjoyed in places like Japan here in Aberdeen too."
He added that while some residents would face disruption, the firm is keen to keep people informed of when work will be carried out.
Narrow trenches will be dug into pavements and the new cables laid, with work normally taking between two and three days.
The next step is connecting the cables into people's homes, usually through the front garden.
---
---
When the cables are in place, residents will have to voluntarily sign up to the scheme.
Vodafone will initially have exclusive rights, but Mr McEwan said they were hoping to open up the scheme to other companies as well.
A number of schools and other council facilities are also being connected.
Council co-leader Jenny Laing said: "It's essential that Aberdeen, as one the foremost business hubs in the UK and Scotland, has the world-class connectivity necessary for continued growth."