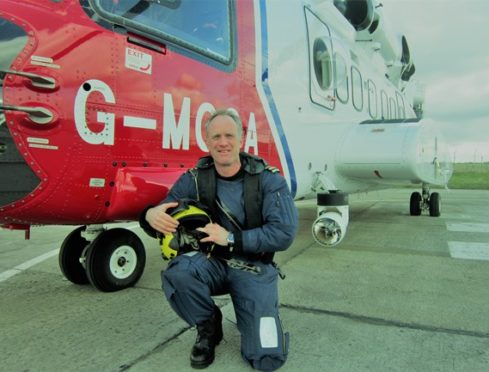 An Aberdeen man will be embarking on an African adventure to raise awareness of the plights of sports tetraplegics and paraplegics.
Gary Queen will cycle 400 miles through the hills of the Rift Valley in Kenya with five tetraplegics – people who are paralysed from either the neck or the waist down – joining his team.
The 52-year-old, from Aberdeen, works as a helicopter pilot flying men and women offshore to oil rigs, and has previously acted as a search and rescue pilot operating from bases in Holland, Ireland and the UK.
Now, Mr Queen will be taking on his fundraising cycle through Kenya on behalf of Remain –  a charity which supports tetraplegic and encourages them to get into sport.
This is the second time Mr Queen has supported the charity by cycling through the African wilderness.
The pilot initially became involved with the charity in 2013 by pure chance.
Having read an article about Regain and their work, he suffered "a rush of blood to the head" he headed to South Africa to complete his first cycle challenge assisting this charity and five tetraplegics.
Mr Queen said: "Initially my aim was just to complete the 400-mile course.
"We were accompanied by five tetraplegics but unfortunately, their electric tricycles quickly broke down in the heat and dust.
"It became very clear, very quickly that my efforts paled into insignificance when I realised not only the extent of the mental trauma, helplessness and frustration felt on a daily basis by the tetraplegics but also the unconditional love and support given by their carers 24 hours a day."
Mr Queen became part of the 'towing' team, which helped pull the tetraplegics along to ensure they completed the seven-day-challenge.
Regain have now asked Mr Queen to support their next challenge, due to take place in October.
Mr Queen will begin his 400-mile stretch in the mountainous region of Nyeri, traversing rough tracks, tropical rainforests, towns and plantations until he and his team reach the shores of Lake Victoria in South Kenya.
He said: "It is heartbreaking when you consider that each of these incredible people had at one time been fit and strong.
"Regain's aim is to assist these unfortunate men and women to 'regain' some purpose in their lives and help them achieve their physical and mental goals by providing specialist wheel chairs so that they can compete in sport."
But before he leaves for Kenya in October, Mr Queen needs to raise £3,500 in donations.
To increase his chances of meeting his fundraising target, the 52-year-old will be hosting a charity gin tasting night at the Marcliffe Hotel next month.
The event will feature a gin tasting presentation, raffle prizes and a soon-to-be-announced guest speaker.
To purchase tickets, visithttps://gq-gintastingevening.eventbrite.co.uk or call 07770837062
To contribute to Mr Queen's fundraiser go to www.justgiving.com/fundraising/garyqueen66.