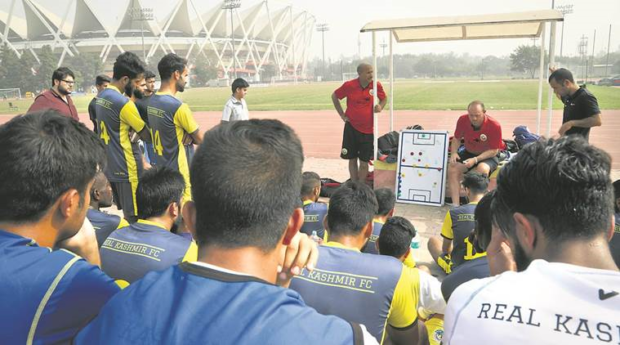 David Robertson admits that if he had done any research before taking up the manager's role at Indian football club, Real Kashmir, he might never have stepped on the plane to the subcontinent.
When he touched down in January, 2017, the former Scotland, Aberdeen and Rangers star was shocked by the sight of people walking around with guns and automatic rifles, and amazed when it started snowing heavily a few days after his arrival.
Yet, two years on, and despite working in a war zone with the constant threat of military escalation and terrorist incidents – last weekend's scheduled opponents Minerva Punjab didn't turn up, claiming they were scared of making the journey to Srinagar – Robertson, 50, has achieved great things at the club.
He told the Press and Journal he was "almost as passionate about the job as the fans who come to support us."
---
>> Keep up to date with the latest news with The P&J newsletter
---
Real Kashmir are an up-and-coming club, newly promoted to a league where most of the other teams have much deeper pockets and a longer-established history.
But the Scot, who began his career at Deeside Boys Club prior to winning a League title and Scottish Cup with the Dons before being sold to Rangers for £970,000, has thrived against the background of social unrest in Jammu and Kashmir.
He is living in a place where violent protests erupt most weekends, where the electricity is routinely switched off and even the basics can be a struggle.
But, as he said: "I have been well looked after, both by the club and the government, who have really got behind the team since we won the I-League second division title. Now we are in contention for the premier league in the coming weeks.
"It was definitely a culture shock when I landed, but it's amazing how quickly you adapt.
"Sometimes, there is trouble 100km away, occasionally it gets closer to home, and you have to grow used to curfews being imposed and staying indoors most of the time.
"There are days where we can't train because of what is happening outwith football. And you almost get used to reading about bad things in the papers.
"It's not pleasant, of course it isn't, but most of the players aren't in the habit of walking about on the streets. They stick to their PlayStations and I-Pads.
"Most days, I'll go out for a stroll and it is a bit strange to feel the tension in the air, but it is a much tougher situation for the people who live here, because we are being well protected.
"That is maybe one of the reasons why football is such a passion for so many of our fans. It's a release. An escape from what is happening elsewhere in the region."
Robertson's obsession with football has propelled him from Aberdeen to Glasgow and from Leeds to Elgin and on to the United States and now India.
But while he has had to adapt to a very unfamiliar world, far from his wife Kym, his son Mason is with him in Kashmir and is a regular in the team.
He lives close to his father, in Srinagar, which has clearly helped the pair of them.
Robertson said: "He is usually with the players and he isn't treated any differently from anybody else, but it has made a big difference having a familiar face and it's great that we can sit down and have a chat and talk about things beyond Real Kashmir.
"I still keep in touch with people back in Scotland and I have never forgotten my time at Aberdeen, because it was such an important part of my career.
"But, while you are doing a job, you have to put all your heart and soul into it and that's how I want to continue. The club owners have been very good to me and I am grateful for that."
The Kashmir team are vying with East Bengal and Chennai for the title and matters will be resolved in the next three weeks – or at least it will be if their opponents turn up.
Mr Robertson said: "That was frustrating, because we are always prepared to travel wherever the fixture schedule takes us. We just have to concentrate on things we can control.
"If we win our remaining games, we are in with a chance of winning the league. I know how much that would mean to all the supporters who have backed us on what has been an amazing journey in the last two seasons."
Robertson's background
David Robertson began playing football with Deeside Boys Club (now Banks O' Dee FC) before joining Aberdeen, where he won the Scottish Youth Cup.
After becoming a first-team regular aged 17, he won a Scottish League Cup winner's medal against Rangers in 1989 and a Scottish Cup winner's medal in 1990 against Celtic in a match that ended with a thrilling penalty shoot-out.
Robertson moved to Rangers for £970,000 in 1991 and helped the club to the last six of their joint-record nine championship titles in a row.
He subsequently signed for Leeds United in 1997 for £500,000, but recurring injury problems curtailed his spell in England and he played only 26 league matches in four years at Elland Road.
Robertson retired from football in 2001 but was back playing a year later when he was appointed player/assistant manager of Montrose.
He then had a brief spell managing Elgin City, prior to moving to Arizona and working as a director of boy's coaching at the Sereno Soccer Club and then as head coach of USL Pro club Phoenix FC in 2013.
In January 2017, Robertson was appointed head coach of Indian I-League 2nd Division side Real Kashmir.
Under his tenure, they won have won promotion to Indian top-flight football.
Real Kashmir FC is the subject of a new BBC Scotland documentary being screened tomorrow night at 10pm.