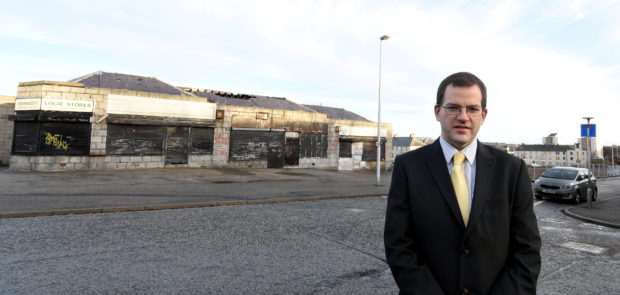 An Aberdeen MSP has said he "remains hopeful" that a derelict arcade of Aberdeen shops will be knocked down ahead of a multi-million pound redevelopment of the area.
In January, Dandara last week revealed multi-million-pound proposals for nearly 300 homes, shops and offices for the Middlefield triangle area after the long-awaited through-road is built to reduce traffic pressure in the area.
The road is planned to reduce bottlenecks on the notorious Haudagain roundabout.
Aberdeen Donside MSP Mark McDonald has previously urged the city council to use compulsory purchase orders to buy the Logie shops – which have been empty for years and frequently targeted by vandals – and demolish them.
The local authority said the parade is on the market.
Mr McDonald has also written to Dandara to see if they will adopt the shops into their plans.
Last night he said he still hoped for a "positive solution" to the eyesore and hailed the plans more generally.
He said: "The regeneration works taking place across Middlefield are positive, and will help provide a boost to the community, but they will be held back in their success if the presence of a dilapidated building in their midst is not addressed.
"I remain hopeful that a positive solution to this can be found which enables the owners to realise the sale of the property and for the building, which has long been an eyesore in the community, to finally be demolished and replaced as part of the wider community improvements."