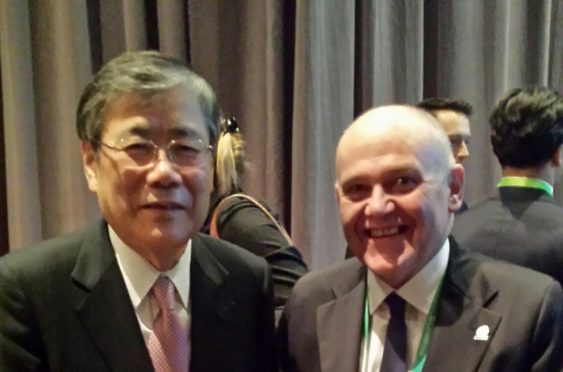 Aberdeen's Lord Provost Barney Crockett has spoken at a high-level conference in the United States, rubbing shoulders with the likes of the crown princess of Denmark and the American secretary of state.
Mr Crockett has been at Housten's energy gathering CERAWeek as the only British politician to attend.
On his return journey from the US, he will travel via Guyana to sign a memorandum of understanding agreement between Aberdeen and Georgetown.
Mike Pompeo, US Secretary of State will give a keynote speech on geopolitics and energy security while Mr Crockett spoke on hydrogen.
Mr Crockett said: "CERAWeek is a renowned international gathering of energy industry leaders and it is essential that the city of Aberdeen is represented on this global stage.
"Aberdeen has been a global energy powerhouse for decades, and this continues to be the case thanks to our forward thinking in terms of renewables and hydrogen energy.  cities across the world are keen to hear first-hand about our experience."
He added: "Guyana has one of the world's fastest-growing oil and gas industries and with the extensive oil and gas business experience and acumen here in Aberdeen it makes sense to sign a memorandum of understanding.
"There is huge potential for local businesses, academia and cultural opportunities here and in Georgetown – it's a very exciting time for both cities."