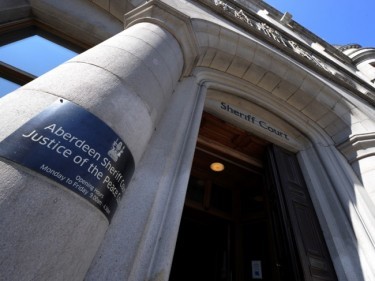 A drink-driver has been banned from the roads after he was caught almost five times the limit with empty cans of beer in his car.
Robert Lapinksi, 47, was trying to park a car while under the influence when he was spotted by a member of the public who alerted the police.
He appeared at the city's sheriff court today where he admitted having 106 microgrammes of alcohol in his breath, when the legal limit is 22mcgs.
The court heard that a woman was walking to her car on Walker Road, Torry on Sunday when she noticed Lapinski trying to park his silver Renault Megane at "excessive speed".
She eventually approached him and tried to speak to him when she noticed a strong smell of alcohol and recorded him on her phone as he stumbled away.
Police later arrived and checked the car, which still smelled of booze and was littered with empty beer tins.
As the witness was giving her statement she spotted Lapinski return to the scene.
Officers then approached him and he tried to hide behind cars and walk away before they caught up with him.
Defence lawyer Liam McAllister said Lapinski insisted he had resumed drinking between the witness spotting him and him returning to the car.
However, he acknowledged that this would not account for such a significant amount of alcohol on his breath.
He told the court there was no suggestion Lapinski had driven any great distance and had merely been moving the car a few inches.
Mr McAllister said Lapinski had no previous convictions and had lived in Manchester until recently, where he had a wife and child who he supported financially.
Sheriff Ian Wallace fined Lapinski £700 and disqualified him from driving for 18 months.