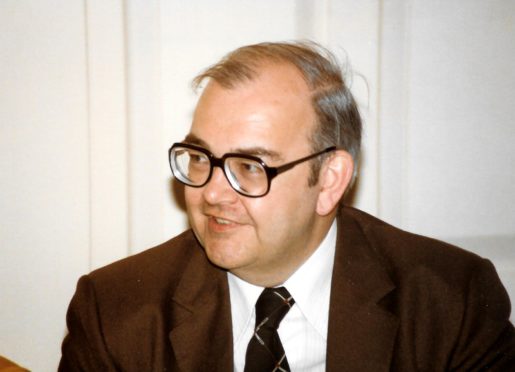 A generous north-east lecturer has left £80,000 to a raft of charities close to his heart.
Psychology lecturer William Peddie Brown died in March 2017, bequeathing much-needed funds to eight good causes operating in the north-east.
Dr Brown studied in Aberdeen, then taught in London and Belfast before retiring in 1985 and returning to the Granite City two years later.
He had a keen interest in Scots language and Doric and spent a lot of time researching his family history at the Aberdeen and North East Family History Society on King Street.
The centre was left £10,000 in Dr Brown's will, which chairman Stuart Petrie says will be used towards helping people tell "extraordinary stories about ordinary people."
He said: "We have everything at our fingertips. People can sit and look at original documents and all the sources.
"For a lot of people it's a very satisfying – but time consuming – hobby.
"We started the society in 1979 and have been in the present place since the 1980s.
"While we've done the cosmetic refurbishment, we're using servers that are about 20 years old.
---
>> Keep up to date with the latest news with The P&J newsletter
---
"We started with one PC and that grew into about 30 and we need them to pay for services and memberships.
"So we'll use this donation to buy new ones."
Despite retiring from work, Dr Brown returned to his alma-mater of Aberdeen University for some part-time lecturing.
He also left £10,000 to the organisation's development trust.
A spokesman said: "We are extremely grateful for this, and all gifts left to the university's development trust.
"Without the support of our worldwide family of alumni, friends and donors, we simply would not be able to provide the outstanding experiences, resources and research facilities that are available at Aberdeen University."
Dr Brown had several other causes close to his heart, which also received money, including Capability Scotland, the Disabled Living Foundation, North East Sensory Services (Ness) and the Multiple Sclerosis Society Scotland.
He also made donations to the British Humanist Society and Rationalist Association, as he was a member of both.
Ness chief executive Graham Findlay said: "Ness is extremely grateful for donations and support from the public to help fund the vitally important work of the charity.
"We are honoured when someone sees fit to leave us a legacy in their will and we can guarantee that their donation will be used wisely in the support of our 6,500 people who live daily with a serious sensory loss."
A statement from his family said: "William P Brown died on March 11, 2017 at the age of 82.
"Educated at Gordons College and Aberdeen University, he became a university lecturer in psychology, mainly in Aberdeen and Belfast.
"In his retirement in Aberdeen he spent some time researching the history of both sides of his family, and appreciated the advice he got from the Aberdeen and North East Family History Society.
"He was a long-time member of the British Humanist Society and the Rationalist Association.
"He gave generously to a range of charities including some dealing with health problems."