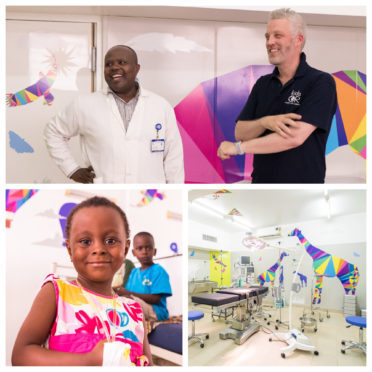 A charity established by the son of a north-east oil tycoon has helped to prevent more than an estimated 100,000 years of disability in some of the world's poorest countries.
Kids Operating Room (Kids OR) was set up by Garreth Wood – son of businessman and philanthropist Sir Ian wood – alongside his wife Nicola in January last year after he decided to fully dedicate his time to helping others.
The organisation works hard to create modern, safe operating theatres in hospitals throughout the developing world, including Africa and South America.
And through its work improving medical care in hospitals in some of the most impoverished countries on the planet, the charity now estimates it has averted thousands upon thousands of years of disability that scores of children would have been subjected to without the simple, life-changing surgeries it has helped to provide so far.
The charity's CEO David Cunningham, the former chief executive of the Scottish children's hospital charity The Archie Foundation, said the Kids OR approach is to help doctors become self-sufficient, rather than forcing medical care to rely on short-term aid, or visiting medical professionals.
He said that helping to provide even the most basic of surgery can vastly improve the lives of children.
One such operation that Kids OR makes possible is for obstetric fistulas, a medical condition that renders victims unable to control their bodily functions.
Mr Cunningham said: "When you provide surgery for a baby girl with an obstetric fistula, meaning she is completely incontinent, you change that girl's entire future from a life of potential abandonment, no education and extreme hardship, to one of hope, schooling and opportunity.
"If the life expectancy in that country is, say, 66 and she is a one-year-old when we operated, then there are 65 years of disability prevented.
"Our research shows that to the end of 2018, 113,900 years of disability have so far been prevented by our work."
In addition to improving health, the surgeries made possible by Kids OR can also help to improve financial situations in developing countries.
Mr Cunningham added: "There is also an economic impact as we know that these children can now grow up to contribute to the economy of their country.
"Our colleagues at Yale Medical School assessed this impact and published a report suggesting that, in our nine operating rooms so far, this will equate to $48 million (US) of economic benefit."