VIDEO: Step-by-step guide on how to photograph the Northern Lights
With the Northern Lights visible to see tonight, here is our amateurs guide to photographing the famous aurora borealis.
It's predicted that the lights will show its stunning array of lights across the north and north-east of Scotland on this evening around 9pm, as a solar storm makes it's way to earth.
Aberdeenshire and Highlands may be best place to see the Northern Lights this weekend
They form when charged particles emitted from the sun penetrate the earth's magnetic shield and collide with atoms and molecules in our atmosphere.
CME forecast to arrive late 23rd March following C5 flare from sunspot AR2736. Active-minor geomagnetic storm periods possible with low risk of moderate storms. As a result, aurora may be visible in Scotland where cloud breaks. Latest forecast available https://t.co/JL4kEFnjRa pic.twitter.com/kxTtoqolDc

— Met Office Space (@MetOfficeSpace) March 21, 2019
Scotland will see a southward shift of the lights which is caused by an ejection of plasma, known as a Coronal Mass Ejection (CME) from the Sun, which followed a solar flare on Wednesday.
Met Office meteorologist, Alex Deakin said: "The aurora borealis is a creation of space weather – they occur during a charged magnetic storm.
"The location of the aurora depends on the intensity of the space weather event – the larger the event the further towards the equator the particles will travel."
Step-by-step guide to photographing the Northern Lights
Deactivate the camera flash and automatic settings.
Focus manually to infinity.
Open up the lens aperture.
Compose your shot.
The bigger the imaging chip in it, the less grainy the pictures will be.
Manual focus adjustment is a must.
Don't forget – Memory cards and spare batteries
Best places to see the lights
Aberdeenshire – Dunnottar Castle, Cairn O'Mount Viewpoint,
Moray – Coastline, Cairngorms, Portknockie,
Highlands – Applecross, Lochinver, Ullapool, Wick
Islands – Lewis, Harris and the most northerly tip of Skye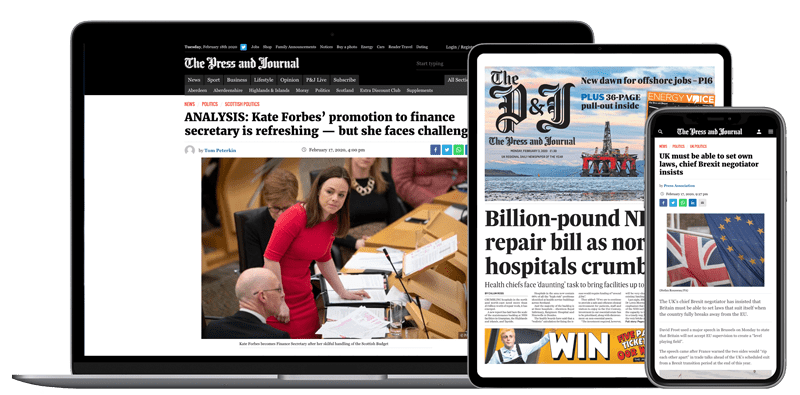 Help support quality local journalism … become a digital subscriber to The Press and Journal
For as little as £5.99 a month you can access all of our content, including Premium articles.
Subscribe