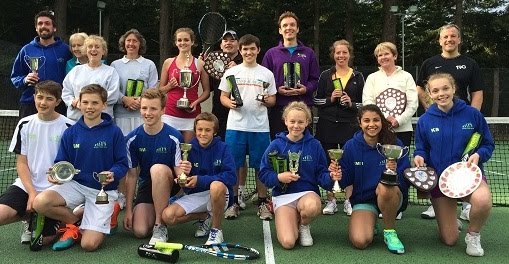 A north east tennis coach and club have been named as finalists to win national sporting honours.
Andrew Fyfe, 57, has been shortlisted as Volunteer of the Year and Aboyne Tennis Club as Club of the Year at the annual Tennis Scotland Awards.
The baubles aim to recognise individuals and clubs which are going above and beyond in courting new talent, either as a player or in a coaching role.
Mr Fyfe first started playing tennis at his local club, Aboyne Tennis Club, when he returned from working in Borneo in 2003.
He said: "Tennis is a game for life. While encompassing physicality, technique and the mind, it's a pastime suitable for anyone at any age and one I have been able to pursue with my whole family.
"It's been highly rewarding to become involved in my local tennis club in Aboyne, starting by setting up a men's team, which has now grown to three teams.
"I then increased my involvement off court, becoming club chairman, and more recently steppred into the role of project manager for a major court renewal project.
"Getting pleasure from such a great game meant I was keen to give something back to the wider area.
"That inspired me to become the organiser of the North East men's and ladies tennis leagues for three years, enabling inter-club tennis involving more than 60 teams."
Founded in the early 1900s, the Aboyne organisation has almost 300 members and secretary Iain Young said: "We have become a key part of our small community.
"Last year, the club successfully delivered a £170,000 facilities renewal project which invested in the clubs lighting, fencing and courts. Since then, the membership figures have been at a record high and competition a great success".
Mr Fyfe and Aboyne Tennis Club will have to wait until April 9 to find out if they have been crowned as winners.
Tennis Scotland's chief executive, Blane Dodds, said: "Our awards present an excellent opportunity to recognise the achievements, work and dedication of individuals, clubs, teams, tournaments and programmes throughout Scotland in the last 12 months.
"The standard of nominations was incredibly high this year so to make the final selection speaks volumes about Andrew and Aboyne's accomplishments.
"It's a fantastic achievement and one they should be very proud of."
More than 70 finalists have been announced across 15 different categories.