North-east mum-of-two's warning to other women after ovarian cancer diagnosis
When doctors found a 12-inch tumour on one of Nicola Hepburn's ovaries, she feared she would never be able to have children.
The 29-year-old accounts assistant was rushed into hospital one weekend in 2012, after it transpired that her suspected hernia was actually cancer.
She is now in remission and will take to the catwalk for a glitzy fundraiser to support other women who are in the situation she was once in.
Miss Hepburn is one of 24 participating in this year's Courage on the Catwalk in aid of Friends of Anchor.
The organisation supports cancer and haematology patients from across the north-east, as well as in Orkney and Shetland.
Next month the models, who have all previously faced a cancer or haematology diagnosis, will strut their stuff in a series of special fashion shows at the Beach Ballroom.
And Miss Hepburn, from Inverallochy, says being able to take to the stage will show just how far she has come in the last seven years.
"I'd gone to the doctor as I was a bit sore and just not feeling right," she said.
"They thought it was a hernia but couldn't really do anything so sent me away and said to come back if it gets worse.
"I went from that November to the February and, as it did worsen, I went back.
"I was there on the Wednesday and got a call on the Friday asking me to go to ARI for a couple of tests and I am so grateful that they acted that quickly."
The following day, Miss Hepburn was told she had a tumour on one of her ovaries – and had surgery to remove it, and some of her lymph nodes, on the Sunday.
After five months of chemotherapy, she was told she was in remission – but had to be warned about some longer lasting effects.
She said: "The biggest thing for me was that, because the tumour was on my ovary, I was told that if I ever got a positive pregnancy test not to get too excited because it would be the same hormone for that as the one from the cancer.
"I wasn't sure if I would ever be able to have kids but soon I found myself pregnant with twins.
"And now I have two little girls who are 20 months old.
"I wasn't sure it was ever going to happen for us so it was a real shock."
Miss Hepburn was nominated to take part in Courage on the Catwalk by her friends Hannah Lawrence and Kelly McIntosh, and her boyfriend Kevin Ellis.
"I'm nervous but I'm really excited at the moment," she said.
"We've had a couple of rehearsals and they've been really fun.
"They're all such a nice group of quines and we're mixing really well together."
She added: "I've got a table of folk coming to each of the shows, it will be really nice to see them."
Courage on the Catwalk will be held at the Beach Ballroom from 3pm on May 11, and from 12pm and 6pm on May 12.
Balcony tickets, which include refreshments, are available for £20 by emailing anchor@balmoral.co.uk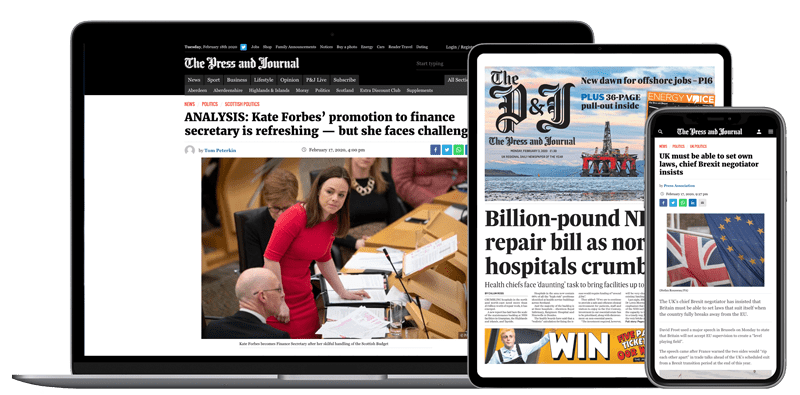 Help support quality local journalism … become a digital subscriber to The Press and Journal
For as little as £5.99 a month you can access all of our content, including Premium articles.
Subscribe