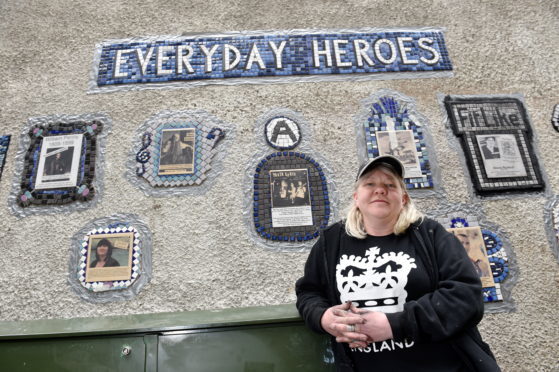 A mural, which honours some of Aberdeen's most cherished sons and daughters, has found a new home after being controversially removed from its former spot.
The Everyday Heroes mural was installed on The Green last April, as part of the popular Nuart project.
The artwork celebrates some of the city's most famous sons and daughters, from football legend Denis Law and Paralympian Neil Fachie to poet Sheena Blackhall – but also highlights a variety of unsung heroes.
However, months after it was put up on the side of Kenny's Music Shop, the building's owners sparked dismay when they ordered it be torn down.
Esson Properties complained that Nuart had not been given permission for the project.
Nuart organisers promised to find a new home for the mural, which was put together by London-based artist Carrie Reichardt and local school pupils.
And last night, it was confirmed it will now return to the public spotlight at the rear of the Marriott Marischal Square, near the Flour Mill Lane junction with Netherkirkgate.
Councillor Ross Grant, senior project manager at Aberdeen Inspired, said he believes the new location for Everyday Heroes is "perfect" for the nature of the artwork.
He said: "The Everyday Hero work was one that, for many reasons, had a particular meaning for many people in Aberdeen – and, of course, the specific families of the individuals who were honoured in the work.
"The nature of the piece had a real emotional impact, so it was really important for us to get the right site for the relocation.
"We worked hard to find a new location that had a willing owner to allow us to proceed, given issues we've previously faced, and also a location that allows visitors and locals to come and linger around the work, and spend as much time as they want reading all the information and soaking it all in.
"This new site is perfect for that, it's a great spot for people to come and enjoy it without having to worry about noisy traffic and things like that nearby."
The reinstallation will be carried out prior to the Nuart Aberdeen festival weekend next month by local artist Shelagh Swanson, assisted by volunteers.
Muse Developments, which runs Marischal Square, said the artwork would "make a welcome addition to the civic space".