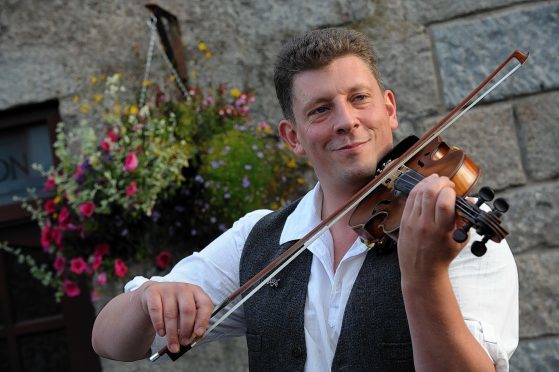 Scottish stars will be taking part in a musical variety event in support of a world-renowned fiddler battling cancer.
Paul Anderson, of Tarland in Aberdeenshire, has been receiving cancer treatment since he was diagnosed with high grade Non-Hodgkin lymphoma in September last year.
And the violin maestro has now asked some of his famous friends to take part in a concert in Aberdeen to raise money for the treatment centre that helped him.
Joining him at the glittering all star musical event at the city music hall will be Elgin-born actor Kevin McKidd, star of Trainspotting and Grey's Anatomy.
Film-maker Richard Jobson and River City actor Iain Robertson will also take to the stage on May 3.
While the main aim is to raise funds as a thank you to Anchor unit at Aberdeen Royal Infirmary, the planning of the event has proved a welcome distraction for the musician.
As someone who has rarely had a day off due to illness in his life, the diagnosis was a shock, but the cancer has been caught early and Paul has been told the prognosis is good.
Mr Anderson said: "When I was diagnosed last September I had to cancel some of my plans and it really bothered me letting people down, although everyone was brilliant, and really supportive.
"I could not have been happier with the treatment and the attitudes of staff at the Anchor unit so decided to organise a concert as a way of thanking them. What I didn't want to do was dwell on being ill.
"I have felt tired, and sometimes the last thing I have felt like doing is going and playing a concert, but once I start it gives me a noticeable lift, both in spirits and energy. The music certainly seems to help invigorate me."
Completing the line-up will be Karen Matheson and Donald Shaw from legendary Celtic band Capercaillie, Blazin' Fiddles' Bruce McGregor and Mr Anderson' wife, Bothy Ballad champion of champions, Shona Donaldson.
Mr Anderson is regarded as one of the finest fiddlers of his generation having won numerous awards and performing at a private reception for Prince Charles on his 60th birthday.
Sarah-Jane Hogg, fundraising and development director for Friends of Anchor, said: "Paul has brought together some of the finest Scottish talent for this concert which promises to be a spectacular evening.
"His passion for the cause is inspiring and we are grateful for all he's doing to raise vital funds and awareness for the cause."
The event will be held at the Aberdeen Music Hall on Friday, May 3rd with tickets priced at £22.50.
Tickets can be bought by visiting www.aberdeenperformingarts.com.