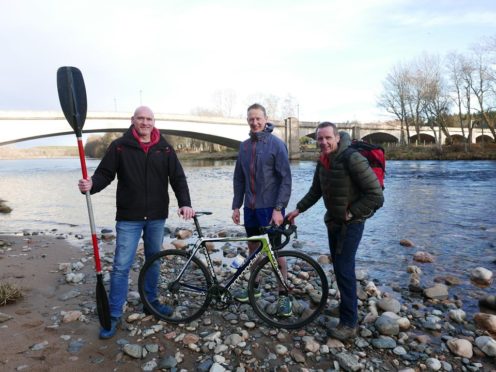 A group of men are poised to embark on a gruelling challenge to raise money for Alzheimer's charities.
And there is a very personal motivation for them, because one of the group's mothers has the condition and is now in a residential care home.
The eleven people who will participate in the trek next month includes Aboyne  residents Calum Cormack, Colin Feeley, Mark Grandison and Neil Morrison,
Keith Young, Charles Dunbar, Robert Croft and Alex Brindley will also be taking part along with three others from Carlisle – Dick Cormack, Rob Bryson and Brian Murray.
Within a 48-hour limit from May 16 to 18, the intrepid ensemble will kayak 66 miles from Fort William to Inverness along the Caledonian canal, then cycle the return 72.2mile journey by road and finally climb up Britain's highest peak, Ben Nevis.​
They are currently tackling duathlons and training in all weathers as a way of preparing for the endeavour. They are aiming to raise thousands of pounds for Alzheimer's Scotland and the Alzheimer's Society.
Dr Grandison said: "At the moment, some of us are blissfully unaware of just how challenging this will be, but as the training intensifies in the weeks ahead, the reality is slowly setting in about what we are taking on.
"This will undeniably put our physical and mental strength to the test, however we will be fortunate to be travelling through some of the most beautiful scenery in Scotland as well as having each other for support and motivation.
"The most important thing of all is that we are raising money for two incredibly worthy charities which do fantastic work for vulnerable people and families who are affected by Alzheimer's disease.
"Calum's mum, Joyce, first showed signs back in 2008 and she is now in full-time residential care – so we know how hard it can be."
Mr Feeley, who works at Police Scotland, said: "People who develop Alzheimer's don't have a choice in taking the horrendous journey which the disease puts them on.
"This has made the decision to put ourselves on this particular journey an easy one for us all to make."
If you would like to donate, visit  https://www.justgiving.com/teams/48HourMonsterChallenge