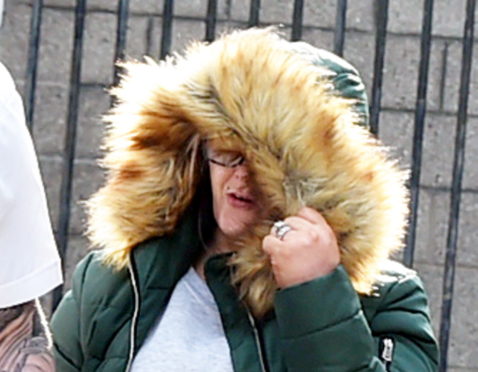 A "Good Samaritan" has relived the terrifying moment he was assaulted and robbed after helping a woman move a fish tank into a block of flats.
Student Liam Martin was "paralysed with fear" as he was struck with a sharp weapon, accused of trying to rape the woman and punched forcefully by her partner.
Speaking after Mandy Nicol was jailed for 27 months for the attack, Mr Martin revealed that he still suffers the effects five months on.
The 22-year-old history and politics student was walking home from a night working at Aberdeen University at 11pm on Thursday, November 22 last year.
He had bought a pizza from Kordoba, near Spring Gardens, when he spotted Nicol "screaming for help" as she tried to transport the bulky fish tank along George Street.
He said: "I figured she must really need help, and I was really stressed about coursework at the time so maybe I was not thinking straight when I decided to offer a hand.
"She ended up leading me into a corridor in the Greig Court tower block."
When they got inside, Nicol became strangely quiet and refused to answer any questions about where she wanted him to put the tank.
Mr Martin grew suspicious when the 32-year-old asked to use his mobile phone to call her dad.
He added: "I refused and tried to leave, but she then started asking for a slice of pizza.
"I offered her that but noticed she was getting out what looked like a pen knife. That's when the alarm bells really started going."
Nicol blocked Mr Martin's attempts to leave, then asked for his wallet while "pointing" the weapon at him.
"She wouldn't let me leave, and started assaulting me", he said.
"I was paralysed with fear, and didn't know what to do.
"She kept punching me, jabbing me and scratching me.
"At some point I got my phone out to call the police and, after struggling some more, she seemed to give up."
When Nicol's boyfriend turned up, she claimed Mr Martin had tried to rape her – prompting him to lash out and punch the student in the face.
Mr Martin managed to flee, and neighbours called the police. He was taken to hospital to be treated for shock.
Last night, Mr Martin – who moved to Aberdeen from Helensburgh for his studies – said: "Since then I am a bit wary, if someone approaches me in the street I get a bit jumpy.
"But my friends and family were a great support, I get a little shaken when I remember what happened but I am continuing to get on with my life."
Nicol later admitted charges of assaulting Mr Martin and robbing him of a laptop and mobile phone.
She also pleaded guilty to attempting to wash bloodstained clothing "in an attempt to prevent them from being forensically examined".
Jailing her for 27 months, Sheriff Graeme Napier said: "This must have been particularly frightening for this young man, who was just trying to help you."