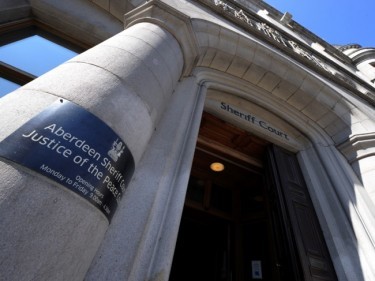 A "collector of all things macabre" was arrested after police investigating his purchase of illegal knives discovered a stash of cannabis at his Aberdeenshire home.
Stephen Kirk placed an order for six throwing knives, described as similar to those used in the gory Mortal Kombat video games, from his home in Stonehaven.
When the package arrived at a local distribution centre, it sparked suspicion among staff – who called the police.
Aberdeen Sheriff Court yesterday heard that officers later mounted a raid on the 45-year-old's home at Woodview Court in Stonehaven.
But when they arrived at the property at 8.30am on February 12, they came across a stash rather than a cache.
Fiscal Anna Chisholm said: "They found 47.2 grams of herbal cannabis, worth about £470."
Kirk later admitted charges of importing prohibited knives and cannabis possession but he insisted there was an innocent explanation for the shipment of blades.
His solicitor, Stuart Murray, said the accused "describes himself as a collector of all things macabre" and had purchased the knives as part of his peculiar pastime.
Mr Murray said: "He collects vintage and antique items, and replicas of old knives form part of this unusual collection.
"He was not going to use them for anything more sinister."
Sheriff Andrew Miller fined Kirk £600.
He said: "I recognise that you purchased these knives simply because you regard them as collectable, and for no other reason, but it is a serious matter to be involved in importing these items."