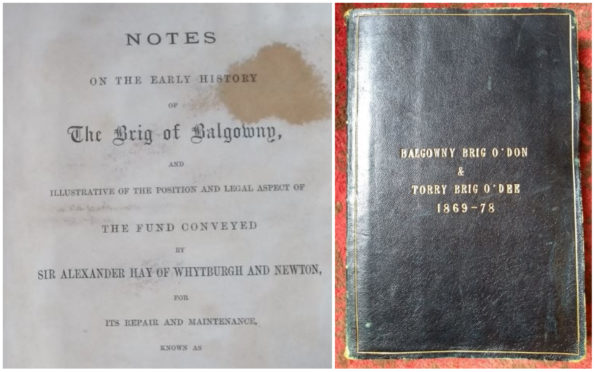 A rare book printed nearly 150 years ago has been donated to the historic Aberdeen organisation which helped created it.
In 1876, a member of The Society of Advocates compiled a tome detailing the origins of the Brig o'Balgownie as a way to show town councillors what the area's future could hold.
Balgowny, Brig O'Don and Torry Brig O'Dee by William Paul outlined the bridge's construction in the 13th century through to the urgent repairs it went through in 1605.
He had written it to help councillors understand the legal aspects surrounding proposals for what we know today as Queen Victoria Bridge, which connects Torry to Market Street.
Many copies of Mr Paul's book were distributed and some still exist in Aberdeen today, but each is unique in that they were created with black pages in the back for additions.
And a newly-unearthed copy includes a variety of newspaper articles, letters and maps of the Torry area.
One of the pages details the site of Craiginches prison and a proposed location for the Wallace Monument, which was eventually placed proudly outside His Majesty's Theatre on Rosemount Viaduct.
The book was found by Olive Sutcliffe, who had acquired it in the late 1980s when she worked in legal publishing.
She has now donated it to The Society of Advocates, which was founded sometime in the 1500s to act as the home of the legal profession in Aberdeen.
Society president Martin Ewan said: "This is a thoughtful gift which will be appreciated by all of our members and, I am sure, many city historians.
"Our historic law library is a source of great pride to our members.
"The personal nature of this gift, as the intellectual product of a former member, as well as Olive's professional contribution through her work in the legal publishing industry, makes this a particularly fitting addition to our collection.
"On behalf of the membership, I would like to say a heartfelt thank you to Olive for her care and preservation of this lovely volume to date."