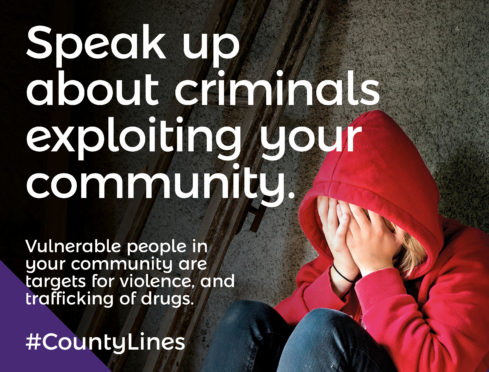 The lure of the money to be made from association with organised criminal gangs can be too much for those whose lives have begun in poverty – or for those whose circumstances have changed.
However, Detective Superintendent Lee Turner, of Merseyside Police, has warned that people should understand becoming involved with the region's brutal criminals will be ruinous.
Violent Merseyside gangsters are exploiting vulnerable people across the north-east as they seize control of the region's drug trade and are using blackmail on mules to get them to move the product.
Yesterday, The Press and Journal explored the long-standing crime links between Scotland's north-east and England's north-west.
And Det Supt Turner has revealed how local criminals and addicts are being used to leak their products into Scotland.
Using threats and violence, they have forced local crooks to either submit to them or start working for them.
And through so-called "county lines", a phone line will be used by criminals operating out of a base to export drugs – all orchestrated from a distance.
The property will often be already occupied by vulnerable people – some drug addicts but others pensioners or those suffering mental ill health.
Gangs will then send their man to sell drugs from the property, with evidence suggesting just one phone line can make up to £50,000 a week for the criminals.
In Peterhead and Fraserburgh police have had success identifying vulnerable people and offering support.
And they are now rolling the initiative out to Aberdeen.
However, Det Supt Turner has described how the scale of the county lines initially "caught them on the hop", though stronger cross-force working is now eating into that.
He said: "The vast majority of drug dealers – and it's a short-lived career but they don't necessarily see that –recognise the fact that it's high income generating, which is probably not something they are used to.
"To be a young person, who may have not had the greatest start in life, who all of a sudden sees someone who doesn't go to school, doesn't go to work, driving a Range Rover, wearing a Rolex and designer gear – you could be attracted to that.
"You try to get into that type of world but the organised crime group just thinks 'here's a possible individual we can exploit'.
"They bring you into that environment and maybe ask you to look after a package on their behalf.
"You look after it and think 'I'm going to get in with the crime group, I'm going to be driving a Range Rover before long'.
"Instead, they will then steal that package off you – unbeknownst to you – and when they come to get it back you have to say 'you're not going to believe this but it's been stolen'.
"They'll just say 'well there was two grand worth of drugs in there, you now owe us two grand' and then they have you.
"One option is debt bondage, where you have to work that two grand off.
"The gang will give them some drugs and you'll have to secrete them on your person and take a train up to Scotland.
"They'll hand you a phone, tell you to find the address of a drug user's house, in squalid conditions and sell from there until you have paid the debt and can go home.
"Another option is complete fear, where they simply tell you you must do something or they will harm your family."
And Det Supt Turner said it is not just people in poverty who are recruited.
He added: "I've probably painted a picture of cared-for children who live in poverty, but it is not necessarily always the case.
"The county lines working group I sit on will talk about barristers' children and others who just get into that.
"They may buy cannabis, find they can't afford it and then run up a debt.
"Soon it is the same scenario – 'I'll either chop your finger off or you come and work for me'.
"Unlike child sexual exploitation – where you have an out-and-out victim that gains lots of sympathy and you can walk into the police station – the fear of the individuals who have been dealing drugs is that if they walk into the police and say 'look what has happened to me; by the way I've been dealing class A on the streets of Fraserburgh for three months' is that they will go to jail.
"You don't just say to these drug dealers 'I don't want to do this any more, I'm out' because you are part and parcel of their business model.
"They are kids they don't really know what to do or where to go or who to tell and it is driven by this demand."
Though the problem is widespread, Det Supt Turner said new policing methods give hope for the future.
"A drug dealer will sit by the phone waiting for the call to come in from Fraserburgh – as an example – and the dealer will then ring the young person and tell him to go to a street, saying 'go deal four bags of brown, one bag of crack' and then come back in.
"What we're doing now is looking at that telephone, identifying who is holding it and using a piece of legislation under the Serious Crime Act that says anyone who helps anyone become engaged in serious and organised crime is subject to arrest.
"Now it is not just a case of saying 'I was only answering the phone'. Everybody is subject to risk.
"We want to make it so people don't want to hold that telephone; so that people will say it is too risky.
"We also have other tactics.
"If a criminal is opening up business in Fraserburgh or running a line up there, they'll put out what's called a broadcast message to everyone in their address book to say 'open for business'.
"What we'll do is get that line and shut it down, but before we do we'll put out our own message to say 'We're Merseyside Police and this line is getting shut down. We know you take class A so here are some signposts to get help'.
"Someone might say 'I'm sick to death of being on the gear I've been on it for 10 years' and we give them that opportunity and say 'today's the day'.
"If we can stop half a dozen people from taking drugs then it's better than nothing.
"I think county lines operations have caught us all on the hop a little bit, but we're getting a lot better at dealing with it now.
"We're a lot more joined up and because we're an exporter force area we get a lot of importer forces ringing us to give us information."