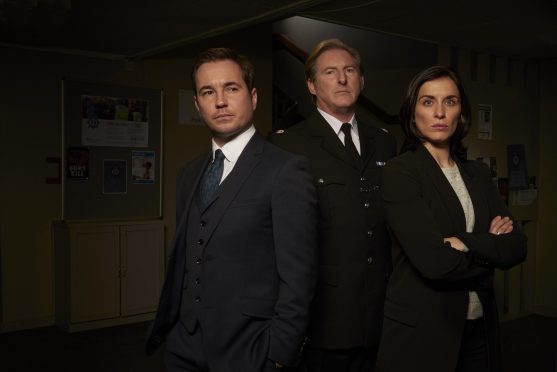 Police in Merseyside and the north-east are working with increasing sophistication to tackle the depredations of organised criminal gangs.
Cross-border operations and information sharing have had significant success; halting the activities of local crooks and eating into the far bigger illegal drug trade operated from England.
Merseyside Detective Superintendent Lee Turner has spoken to The P&J this week, giving intimate details of how the gangs operate and their connection to this corner of the country.
All the while, the criminals themselves have used increasingly sophisticated means of circumventing the authorities.
New technology has been both a boon and a hindrance to police efforts as, while the likes of number plate tracking and surveillance cameras have improved monitoring of the gangs that blight communities, social media messaging has helped criminals  avoid detection of their illicit activities.
Merseyside gangs running deadly payloads of drugs into the north-east
Television shows – with their former police advisers and ever more significant efforts to ape real life – have also helped gangs stay one step ahead, with some suggesting the most realistic shows have given away police secrets.
And the media, with its efforts to give the most detailed depiction of real-life events and investigations possible has also, apparently, proved a useful source of information.
Before going into politics, Kincorth, Nigg and Cove councillor Alex Nicoll served in both the Grampian Police drugs squad and with the Scottish Crime Squad.
He said: "While technology has helped the police, it is clear that the bad guys have also benefited from technology, making them harder to catch.
"The media and television have held back the police in some ways.The criminals watch the television programmes about intercepting crime and unfortunately they learn from it.
"I think in some cases those creating the shows probably haven't realised they are maybe giving away too much intelligence on how the police operate.
"Thankfully I think that at the highest levels the details of how operations play out hasn't become known and the intelligence hasn't been made public.
"That is true of the likes of the Scottish Crime and Drug Enforcement Agency, which is after the people right at the top of the tree."
Former Mid-Formartine councillor Allan Hendry served with Grampian Police for 25 years before retiring in 2000 and was the head of the dog unit, carrying out searches.
He said: "We used to have more of a local element but certainly, in recent years, there have been more big drug syndicates coming up from places like Liverpool.
"I know now the police here have never been working more closely with Merseyside.
"The reputation they have down south is very brutal and I know they threatened syndicates up here with extreme violence to do what they are told.
"Now very little of the drug money stays in the north-east. All that the criminals leave behind is misery.
"In my day there wasn't a lot of tracking of mobile phones so that has been a big change for the police and has been a huge advantage.
"But on social media, dealers can use code words to direct people to where they can get drugs. It's a constant battle."
City councillor Gordon Townson also served with Grampian Police, beginning in 1975 and serving for 30 years.
He said: "Technology has changed things massively. Now people can put things on social media that don't even look like drugs messages.
"It used to very much be done through word of mouth, or a phone call saying 'meet so-and-so here'.
It could be as unsophisticated as passing scraps of paper, as we used to retrieve paper and diaries.
"But the technology is on the side of our officers too and they regularly use it to track the criminals.The types of drugs have changed too. We used to see dependent people committing crime to fund their habits, but it is now a lot more people using their own money to buy party drugs.
"I think the organised aspect has also changed. Historically groups were vulnerable because they would put people who were not that switched on in their drug chains.
"But overall I think the changes have mostly been beneficial for the police."
Heroin and crack cocaine are serious problems for police forces across the country but "party" drugs like cocaine and MDMA are also being smuggled and sold on the streets of the north-east.
While the link between the north-east of Scotland and the north-west of England has been very strong for decades, there remain plenty of local people willing to become involved in drugs.
Hazlehead, Queens Cross and Ashley councillor Martin Greig, a former convener of the Grampian Joint Police Board, said the oil capital of Europe's reputation for affluence meant it was a breeding ground for those looking to peddle potentially deadly wares.
Mr Greig said Merseyside gangs operating in the area had been on the force's radar even before the amalgamation into Police Scotland back in 2013.
"That these gangsters are coming into our area has been a well-known fact for many years," he said. "Unfortunately Aberdeen and the surrounding area has been an attractive market for them.
"Organised criminals see it as an affluent place where they can successfully sell a lot of drugs in our communities.
"The police have always done their bit to tackle these problems and disrupt their networks, and there have been significant recoveries over the years.
"It is a really big challenge but there have been very effective strategies including working and sharing information with other forces.
"We are very fortunate here because of the quality of community policing we have in the area."
Setting up shop
While organised crime groups operating in the north-east have come from England's north-west over the past two decades, others including Mafia cells have also been alleged to have set up shop.
Traditional Scottish crime families have not been such a problem in the region as they are in other parts of the country like Glasgow and Edinburgh.
But in 2008, a shock report suggested gangsters from Italy's notorious Camorra organisation were working out of Aberdeen – which was rubbished by police.
Chief Superintendent Campbell Thomson said that in the north-east, the local gangsters had mostly been forced out or co-opted into aggressive gangs from major metropolitan English cities.
They are thought to have taken advantage of Aberdeen's transport links to bring illicit material in by road, rail, sea and plane- and now often rely on county lines operations to remotely control their empire.
In 2016 alone, police smashed nearly a dozen organised crime gangs and seized more than £1million of drugs from the north-east's streets.
When the EU study on gangsters came out in 2008, it suggested Camorra had interests in the catering, food retail and property sectors in the Granite City.
The Transcrime research centre found evidence that Camorra and two other gangs – 'Ndrangheta and the Sicilian Mafia – have operations in the UK.
The project, which was funded by the EU, analysed how the main organised criminal groups invested the proceeds of their crimes in selected countries between 2007 and 2013.
City restaurateur Antonio La Torre – named by Italian prosecutors as a Camorra crime lord – was arrested in 2005 and jailed in Italy for extortion and racketeering.
He is the brother of Augusto La Torre, who later confessed to murdering 40 people in Italy.
However the report was later rubbished by police.
Police Scotland said at the time there was "no intelligence" to back up
the report's claims about Aberdeen.
"Tackling serious and organised crime is a high priority for Police Scotland, right across the country," a spokesman said.
"We continue to work alongside our partner agents to make progress in this area.
"There is not intelligence to suggest that this report's comments regarding Aberdeen are accurate."
Culture change
Police have noticed a culture change in drug use over the years.
The profile of heroin and crack cocaine addicts is fading following the "Trainspotting" era of the 1990s, with the recreational use of cocaine taking its place.
And while drugs deaths in Scotland are rising, this has often been attributed to the lifestyle of long-term addicts taking its toll when they reach their 40s and 50s.
Detective Superintendent Lee Turner, of Merseyside Police, said the impact of "party drugs" like cocaine and ecstasy could not be underestimated.
He said: "I think we have seen a change in culture – there's not so much class A like heroin and crack cocaine being used but there is loads of cocaine being used recreationally because it's accepted.
"It's not quite as acceptable to use heroin or crack cocaine but it is to use cocaine for some reason I don't know why.
"Recreational drug use is generally cocaine at the weekend or MDMA type stuff and people think it's a victimless crime. 'What harm am I doing? It's only my health I'm damaging taking cocaine at the weekend or MDMA at a festival.
"But someone has to supply it, someone has to be dragged into that world and there will be a lot of violence associated with it.
"It is driving child criminal exploitation, addiction is a little bit different but there is help out there for those individuals, but it isn't a victimless crime – it is not just you who you are damaging.
"It's simple economics.  If you didn't have demand there would be no supply and therefore young people wouldn't be secreting drugs in their person to then go miles away from home with no support mechanism, living in fear in squalid conditions not knowing where their next meal is coming from."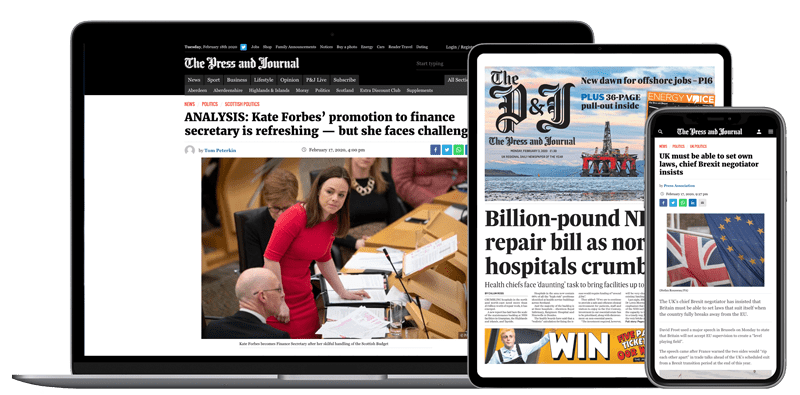 Help support quality local journalism … become a digital subscriber to The Press and Journal
For as little as £5.99 a month you can access all of our content, including Premium articles.
Subscribe