Scottish gardening legend Jim McColl says goodbye to Beechgrove
Hardy perennial Jim McColl is hanging up his gardening boots.
Jim, one of TV's longest-serving gardeners and a P&J columnist for more than 30 years, will make his final appearance on the Beechgrove Garden tonight.
His couthy manner of dispensing knowledge in a way that made gardening seem fun and "do-able" made him a household name across the country, so for Jim – and his legion of fans – tonight's announcement signals the end of an era.
The octogenarian, who lives in Oldmeldrum with his wife Billie, said: "I started with the show in 1978 and apart from a four-year period when I was taken off the progamme by the then controller, have been with the show the whole time.
"During the four-year break, the programme was farmed out to Tern Television with whom I have had an excellent relationship – they have been great to work with.
"But it's time for me to take a step back," said Jim.
"One reason is because I have multifocal neuropathy with condition block – a problem that means messages sent from my brain don't reach the fingers.
"I've not got feelings in my hands so can't lift things easily, while fastening buttons and doing up zips are a nightmare.
"I'm now in my 84th year and it's affecting both hands now.
"I don't want to be a stookie on the show, someone that just stands there doing nothing, as I'd far rather be doing things.
"But that's no longer possible.
"If, for example, I use secateurs, I can't close them without using both hands to make a cut.
---
>> Keep up to date with the latest news with The P&J newsletter
---
"Everything is just blooming awkward – I want to grow old in private.," said Jim, who had a triple heart bypass in 2003.
Jim, who is the first to say he's still learning and regularly says 'every day is a school day', has his roots in Ayrshire, and after working in England for years, brought his family to Aberdeenshire in the early 1970s.
"I was working at the College of Agriculture at Craibstone and was in charge of the trials unit where we were testing big polytunnels, which were new then, to see how different types of crops grew in them," said Jim.
"I was interviewed about that and that led to me being asked to join Beechgrove.
"Created in the gardens that surrounded the BBC building on Beechgrove Terrace, the idea was to talk about suburbia, and create a typical semi-detached garden people could relate to.
"The show was originally broadcast at 10pm on a Friday night and watched by blokes coming back from the pub, who'd then be inspired to get into the garden the next day."
His co-presenter was George Barron, who tickled audiences when he spoke about going to "do a wee jobbie in the potting shed".
But Jim also said things that made people sit up and take notice…
"Before starting with Beechgrove I appeared on a radio show hosted by Frieda Morrison when a chap from Perth rang in and asked for advice about growing a plant called Northern Lights.
"The others thought it was a type of cabbage, but I knew he meant a type of cannabis plant as previously, I'd grown cannibis sativa in a foliage border in the Reading University BSc students teaching garden at Shinfield in 1960.
"I gave the caller plenty of advice on how to grow the plant, then a few days later the police got in touch wanting to know the caller's details."
Over the years, Jim has rubbed shoulders with celebrities and the Royal Family – Princess Anne presented him with an MB£ in 1996 for Services to Horticulture.
But for him, one of the delights is seeing children's faces light up when they discover the joys of gardening.
"I'm not sure that the future holds but as long as I'm half compos mentis, I'm happy to still be involved helping school gardening, Gardening Scotland, charity work and, as trustee of the charity, Trellis, I'm particularly involved in what is described as therapeutic gardening for people with physical problems and/or learning difficulties."
Jim will also continue writing his weekly column for the P&J's Your Home supplement each Tuesday.
"Despite suggestions that I should stay connected to Beechgrove Garden to do 'odd bits' I declined, preferring to make a clean break," said Jim.
"Once a gardener always a gardener, I am no less enthusiastic, just constantly frustrated at my growing inability to dae aw these wee jobbies."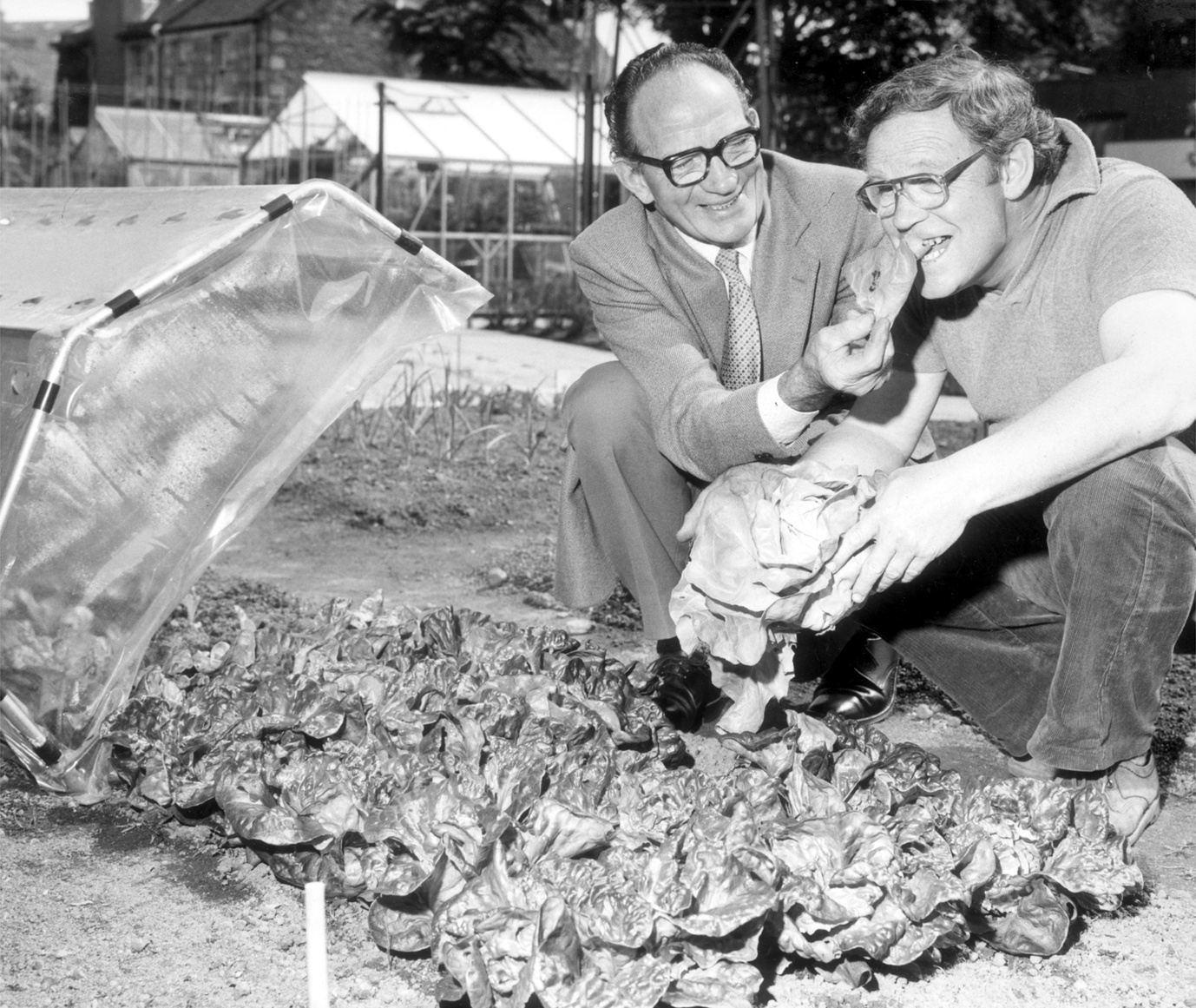 Beechgrove producer Gwyneth Hardy said: "It's the end of an era for Jim to be handing over the trowel. It's been a big decision, not taken lightly for Jim as he is genuinely passionate about communicating his knowledge of gardening. He said to me recently that gardening is like breathing for him; it's an everyday activity. I have worked with Jim for more than 20 years and it has been a genuine privilege and an honour to work with a real Scottish cultural icon, who doesn't see himself in that way, Jim thinks that there's nothing unusual in what he does.
"This makes Jim pretty unique, he has no ego, what you see is what you get and the audience love him for it. That said, even cultural icons have to retire sometime and as Jim will be 84 at next birthday then it's not unreasonable that he's thinking of no longer being on our screens. He really has given half a lifetime of service to Beechgrove and our loyal viewers. "
Donalda MacKinnon, Director of BBC Scotland, said: "Many thousands of gardeners have been inspired and coached by Jim via The Beechgrove Garden over many years and on behalf of them all, and also for other viewers who simply love him for his knowledge and warmth, I'd like to thank him."