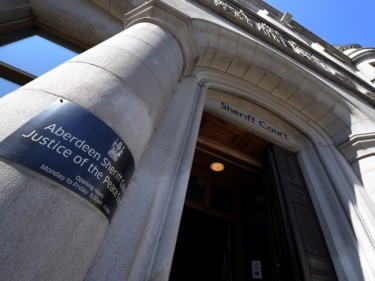 A thief who stole a piggy bank full of tips from an Aberdeen café has been jailed for four months.
Lee Paterson was on early release from a High Court sentence when he broke into the Tartan Pig on February 7 this year.
Staff found their door smashed when they arrived for work and on viewing CCTV saw Paterson "raising a slab" to break the glass.
The footage also showed the 29-year-old running into the cafe to snatch the smiley, pink-nosed bank – affectionately known as Mr Piggy – off the counter.
Paterson was subsequently traced by police officers and appeared at Aberdeen Sheriff Court yesterday to be sentenced, having admitted breaking into the premises and stealing the jar.
Sheriff Ian Wallace handed down a four month custodial sentence.
Staff at the Tartan Pig Cafe initially feared they would never see the stolen piggy bank again.
However, five days after the break-in, it was discovered discarded and empty in a nearby garden.
Speaking last night, owner Greig Bain said the cafe had since returned to normality.
He said: "I'm pleased justice has been served but think that rehabilitation would be better suited in this case.
"I'm all in favour of punishment but in some cases rehabilitating someone is a positive outcome to such a crime.
"We're happy to have a new door at the cafe and our tips were replaced in a lovely gesture by Graham Robertson at the Bridge of Don Garage."