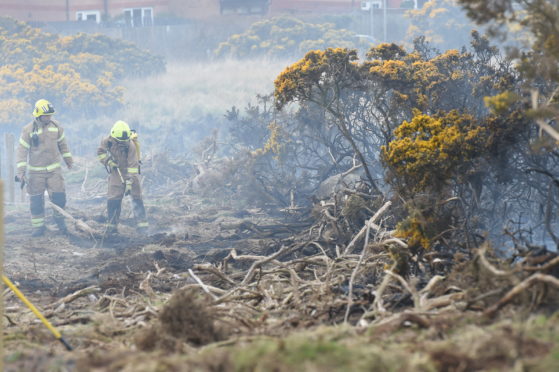 Firefighters raced into action to prevent a gorse blaze from reaching homes in Aberdeen amid tinderbox conditions yesterday.
Crews were called to the Scotstown Nature Reserve, in Bridge of Don, at 3pm as flames tore across a field and crept within 150ft of neighbouring properties.
One man, who lives next to the reserve, described his panic as he watched the blaze spread across a large patch of shrubbery.
The Ashwood Circle resident said: "At about 2.30pm I could see smoke rising from the hill but was told it was a controlled burning when I dialled 999.
"But then I could see flames spreading across the field, and the smoke was sky-high.
"I gather quite a few people phoned the fire brigade at that point.
"The wind seemed to carry the flames towards the houses, and it came within about 150ft of the bottom end of Ashwood Circle.
"It was a pretty worrying experience, but the firefighters were there for a few hours and got everything under control."
It is understood that there was not an issue with how the controlled burning had been performed, as the correct measures were put in place to prevent the blaze from spreading.
A special forestry unit was sent to help crews tackle the wildfire, along with crews from the Central Aberdeen station, North Anderson Drive and Altens.
They used beaters to quell the blaze, and it was under control by about 4.30pm.
Crews remained at the reserve until after 6.30pm to damp down the worst-affected areas and monitor the blackened gorse for any sign of a flare-up.
Smoke caused some problems for motorists on the nearby B997 Bridge of Don to Corsehill road during the incident.
In March, fire bosses warned that dry and windy weather was likely to cause a spate of wildfires across the region and several have been reported in recent weeks.
Firefighters from Portsoy and Cullen were called to a patch of ground near the Sail Loft hostel, to the east of Portsoy, on Tuesday.
And another blaze broke out at the Bridge of Alvah, near Banff, on Wednesday night.
The National Trust for Scotland (NTS) yesterday issued advice on how people can avoid wildfires over the Easter weekend, which is expected to be sunny across the north-east.
People should keep barbecues away from grass, gorse and heather, keep water to hand and never leave them unattended.
The NTS also advised against using camp fires and further guidance warned that cigarette ash should not be dropped.
Glass bottles, and broken glass, should not be left in the outdoors as they act as a "magnifying glass" for the sun and can start fires.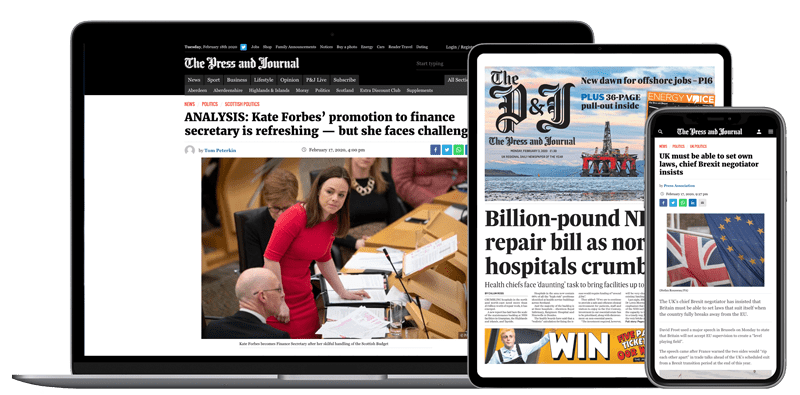 Help support quality local journalism … become a digital subscriber to The Press and Journal
For as little as £5.99 a month you can access all of our content, including Premium articles.
Subscribe