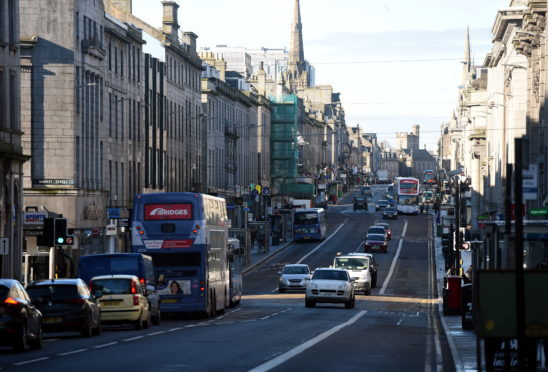 New figures that show no driver has been fined for speeding on Union Street in the past four years have raised questions over whether motorists are being adequately monitored.
Since 2015, police in Aberdeen have not recorded a single speeding offence on the Granite Mile, which has had a 20mph speed limit for the last 13 years.
Chief Inspector Martin MacKay said this is due in part to buses interfering with radar, and short stretches of road providing little opportunity to go faster than permitted.
He stressed that hundreds of motorists had face action during the past years for driving offences on Union Street, including careless driving and use of mobile phones.
But the figures have surprised others, who believe there are still safety issues on the road and wonder whether speeding is being adequately monitored.
In 2006, Aberdeen became the first council in Scotland to introduce a blanket 20mph zone in its city centre in a bid to cut down on accidents.
Kevin Stewart, SNP MSP for Aberdeen Central said: "Union Street is at the heart of this city and it is vital that it is kept safe for everyone to use and part of that is ensuring speed limits are enforced for vehicle users.
"I think a lot of people will be concerned to learn no speeding offences have been recorded since 2015 and I think Police Scotland need to explain why the figure is zero.
"I have written to the police to ask them to consider that a speed check is carried out on Union Street and hope they will plan to do one as soon as possible."
And Dustin Macdonald, chairman of the Aberdeen City Centre Community Council, said: "As a resident of the city centre, I as well as many others use Union Street on a regular basis.
"I see drivers clearly breaking the legal speed limit on Union Street on occasion.
"We would always encourage people to report speeding if possible."
Lib Dem councillor Martin Greig, however, said the lack of any apparent speeding offences showed the 20mph restriction has been effective.
"There have possibly been few if any calls for monitoring and enforcement because the 20mph limit is generally effective in encouraging appropriate driving habits," he said.
"It seems that there are not many concerns in the city centre."
Chief Inspector Martin Mackay said the city-centre's dedicated local policing team worked to address the issues that local businesses and residents raised the most.
"Since 2015 hundreds of people have been charged in relation to numerous driving offences on Union Street including careless driving, using a mobile phone behind the wheel and improper use of traffic lights,2 he said.
"Officers can also issue fixed penalties and verbal warnings based on the severity of an offence in addition to charging individuals.
---
>> Keep up to date with the latest news with The P&J newsletter
---
"The congested nature of Union Street means that radar speed detection is not suitable and can be interfered with by larger vehicles like buses.
"The road itself is three-quarters-of-a-mile long, with 22 junctions, nine sets of traffic lights including pedestrian crossings and the longest stretch of uninterrupted road is no more than 200 metres. Therefore the opportunity to exceed the speed limit is minimal.
"Keeping people safe on our roads is a priority and local teams carry out speeding operations on a routine basis across the region in response to local concerns and road casualty history.
"These operations need to be suited to local areas though so that our resources and time can be used meaningfully."