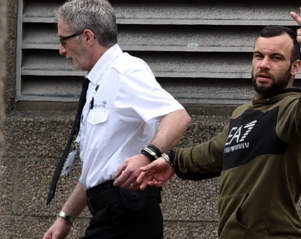 An Aberdeen man has been jailed after pushing a garden hose through his ex-partner's door and flooding her home.
Maxwell Stewart had been drinking when he went on a spree of destruction on Friday night, and the 30-year-old admitted a string of offences when he appeared at Aberdeen Sheriff Court yesterday.
The court heard that, after hurling a paving slab through a car window on Westray Road, Stewart sought refuge at his ex-partner's home.
When his former partner refused to let him in, he became aggressive and began banging on the back door.
Fiscal depute Lynzi Souter described how Stewart's behaviour then became even more erratic.
She said: "He was seen to kick the back door with force, resulting in the latch being lifted slightly.
"The woman then saw the accused feed her garden hose through the gap it had made.
"He turned on the water and caused flooding in the vestibule area."
Stuart then hurled a "large stone" through the kitchen window, and fled before officers arrived at the address.
However, he later decided to return to the house while police were still there – and was promptly arrested.
The Thistle Court resident admitted charges of destroying or damaging property, and behaving in a threatening or abusive manner.
He pleaded guilty to "repeatedly kicking and punching" a door on Berneray Place before "turning on a garden hose and causing water to flood into the house".
Defence agent Alex Burn said "words failed him" when trying to explain his client's actions.
Mr Burn said: "This is one of those times where words fail me.
"This was totally idiotic, moronic behaviour and it is fair to say he has little recollection of it.
"I have spoken to him about what possessed him to feed a water hose through the door, and have nothing to say to justify his conduct."
Sheriff Graham Buchanan jailed Stuart for eight months, saying that imprisonment was the "one possible outcome".