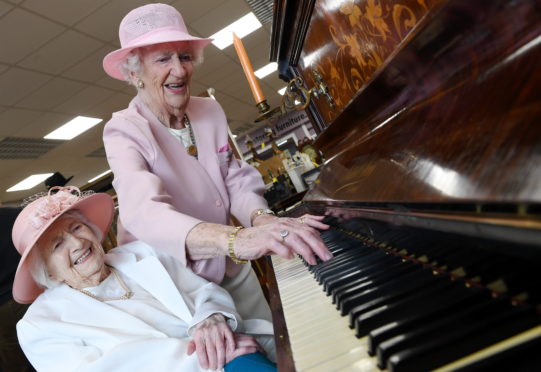 An instrument once described as "the finest piano in Aberdeen" has resurfaced after spending more than a century being cared for by multiple generations of one north-east family.
The keyboard, which is thought to have been created in the late 1800s, was used by concert pianists and celebrity musicians from across the world at the city's Music Hall.
But it left the stage when Elsie Leiper Walker's grandfather, John Leiper, purchased it to celebrate her 12th birthday on Christmas Day in 1908.
---
>> Keep up to date with the latest news with The P&J newsletter
---
A variety of rich melodies reverberated around the family's home on Victoria Road for decades, performed by Mrs Leiper Walker and her daughters Elsie Walker and Cathie Knox who loved tinkling the ivories.
And as the family moved house – first to Devanha Gardens and then Springfield Place – the instrument followed suit.
However, having looked after the piano for decades, Mrs Walker, 94, has now donated it to charity, so that a new generation can make sweet music in years to come.
She said: "It would be taken to and from the Music Hall when a pianist came, so it must have been the best piano that they had at the time.
"It was second-hand when my grandfather bought it, but it must have been a good one, as he always wanted the best for his daughter.
"And now, it will be nice for other people to get some use out of it."
The resplendent instrument is stamped with the name of Paterson Sons & Marr Wood, which built and sold pianos from a unit on Union Street between 1906 and 1935.
Built of solid wood with ornate decorations, it also has brass candle holders.
Mrs Knox, 91, has fond memories of it from when she was growing up.
She recalled: "Mum used to play the piano on a Sunday, and it was always hymns.
"When we came home from Sunday school, she was always sitting playing.
"We would take people for tea and they would sing with us while she played."
Volunteers from charity Smile Scotland, on Broomhill Road, picked up the piano earlier this week.
The organisation offers training, education and work experience to help people find a steady job.
Trustee Clive Hampshire said: "We have already had some inquiries including from some prominent musicians.
"It's great to have been given this unique piece of history and it really helps us with what we do here."