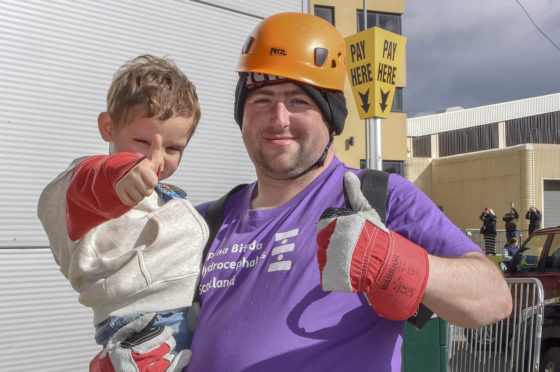 Dozens of daredevils have scaled one of the tallest buildings in Aberdeen to raise money for a specialist charity.
More than 100 people abseiled down the 131ft Northern Lights Tower at Aberdeen Exhibition and Conference Centre, raising more than £26,000 for Spina Bifida Hydrocephalus Scotland.
The charity supports more than 250 people with the spine and brain conditions in Aberdeen and Aberdeenshire alone, by offering weekly support groups, home visits from support workers and a specialist helpline.
Fundraising director Deborah Roe said: "I'd like to personally thank each and every person who took part on the abseil.
"Hundreds of families across the north-east rely on our services, but to provide them with the support they need, we must raise at least £1 million in funding every year.
"We are so lucky to have such passionate and dedicated supporters, who continue to amaze us with their fundraising efforts."
For more information about the charity, visit sbhscotland.org.uk