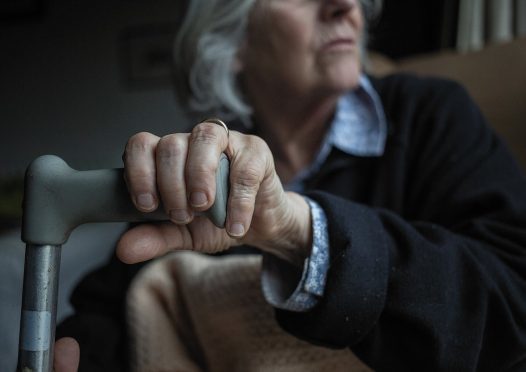 Fears have been raised for hundreds of care home residents in the north and north-east after administrators were brought in by Four Seasons Health Care.
The firm runs nine homes across Grampian and the Highlands, caring for as many as 350 residents.
Two companies within the Four Seasons Health Care group have appointed administrators Alvarez & Marsal, who have been tasked with attempting to sell the group out of administration.
Last night, a spokeswoman insisted the day-to-day operations of the care homes and hospitals would not be affected.
But head of Age Scotland, Brian Sloan, warned "alarm bells will be ringing at the highest levels of the Scottish Government" if one of the biggest care operators is facing administration – and said it demonstrated the "significant challenges" facing the sector.
Aberdeen City and Aberdeenshire Health and Social Care Partnerships and NHS Highland said they were working closely with the homes during the "unsettling time".
Across the UK, Four Seasons cares for 22,000 residents in 322 homes.
Those include Dounemount Care Home in Macduff, Stonehaven's Havencourt Care Home, and Laurels Lodge Care Home in Woodside in Aberdeen.
The group also owns two other care providers, Huntercombe and Brighterkind, which operates Kingsmills Care Home in Inverness.
All of its homes provide elderly care although Angusfield House in the Aberdeen's Queens Road also offers specialist services for adults over the age of 18.
Four Seasons Health Care medical director Dr Claire Royston said: "This news does not change the way we operate or how our homes are run or prompt any change for residents, families, employees and indeed suppliers.
"Our priority remains to deliver consistently good care. It marks the latest stage in the group's restructuring process and allows us to move ahead with an orderly, independent sales process."
Administrators have committed to ensuring continuity of care throughout the sale process while existing leadership staff will remain in place.
Locally, social care leaders admitted it was "an unsettling time for residents" but said teams were on stand-by and exploring what support there might come from the Scottish Government.
An NHS Highland spokesman said: "We are aware of the situation and it is still in its early stages. We in in discussions to ascertain the position locally with Kingsmills."
In a joint statement, Aberdeen City and Aberdeenshire Health & Social Care Partnership said: "Four Seasons Health Care currently operate a total of eight homes across our region.
"Meantime these homes will continue to operate as normal with continued support from the partnerships.
"Whilst this is an unsettling time for residents, we would like to reassure them and their families, that we have teams working closely with the homes locally, and at a national level to look at what support can be offered to Four Seasons Health Care at this time."
Sarah Duncan, chairwoman of Aberdeen's integrated joint board, stressed there was no need for worry yet.
She said: "The homes are going to continue to run, and families shouldn't panic about the short-term future of their family members.
"We shall continue to plan in case any of the homes do need to relocate residents, but we are not at that stage."
Four Seasons was also responsible for running the troubled Banks O'Dee facility in Abbotswell Road in Aberdeen.
Residents were already being moved to other homes after no other care provider wanted to take on the problem-ridden centre in the south of the city.
Aberdeen City Health and Social Care Partnership has been involved in finding new places from residents to live.
Inspectors found urine-soaked corridors, a resident wheeled around the home with only a towel covering their groin and another left in bed for 14 hours because no one helped them get up.
News of the administration was described as a "surprise" in the north, where Four Seasons have just one care home in Inverness.
Local councillor Jimmy Gray said that Kingsmills Nursing Home was "well-run and respected" – and said that if the operator needs to sell up, he hopes it is snapped up quickly.
Mr Gray, the leader of Highland Council's Labour group, said: "This has come as a surprise because this is a well-run and respected care home, but we don't know the background of the overall owners and why they are in this situation.
"I would hope a solution to this can be found quickly to reduce any anxiety among the residents and their families.
"It is obviously unsettling and there will be a period of uncertainty, but the home is still being run as it was while a new owner is hopefully found."
The two-storey home in Inverness provides care for 60 residents with a variety of conditions including Alzheimer's, Huntington's Disease, Motor Nuerone Disease, Parkinson's and cancer.
Mr Gray added: "I am sure this home would be a viable enterprise for someone to take on. It is in an excellent location in the city, with good facilities nearby, good transport links, parks and is near the local doctors' surgery and hospital.
"It is a very important facility for us in Inverness and the Kingsmills area and I would hope someone would see it as a venture to take on."
Scottish Conservative health spokesman Miles Briggs echoed the calls for a quick resolution, pushing for Scottish Government support.
He said: "Social care services in Scotland are already over capacity and if any Four Seasons care homes were to close it would have serious repercussions for the provision of social care in that area.
"We need to see urgent steps taken to stabilise the situation and support finding a future for the company."
A Scottish Government spokesman said: "We recognise the announcement made by Four Seasons Healthcare Group may be unsettling for people at Four Seasons' homes and for their families.
"We understand that this is part of a continuing process in the company's financial restructuring and are advised that the group's key priority remains to continue to provide quality care.
"The Care Inspectorate will continue to monitor the services and care experienced by people at all Four Seasons' homes in Scotland to ensure everyone who relies on their services continues to experience care which meets their needs, rights and choices."