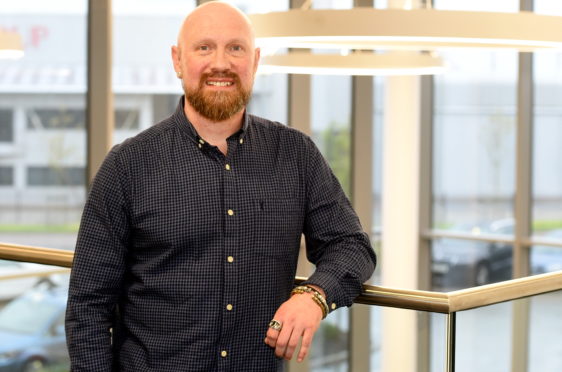 It was purely by chance that Davie Stuart discovered he had cancer.
A few days after celebrating his milestone 50th birthday last April, a routine bowel screening kit dropped through his letterbox.
He followed all of the instructions – ending with the step described as "doing his business" – and popped it back in the postbox, thinking nothing of it.
"I had no symptoms at all," he said. "No blood and no pain. Nothing."
But within a few days he was sent a letter calling him to the hospital for a colonoscopy.
And during the procedure doctors discovered a tumour in his intestine.
Mr Stuart, who lives in the Kincorth area of Aberdeen, said: "I thought maybe they'd found something like polyps or signs of irritable bowel syndrome.
"But they found a tumour and I can remember just looking at it on the monitor.
"It was just an absolute shock, I wasn't expecting cancer when I went in."
CT and MRI scans soon followed, with staff noticing Mr Stuart had a tumour on one of his right kidney as well as the one in his bowel.
And after enduring five sessions of radiotherapy and 12 more of chemotherapy, at the start of this year they discovered he also had a tumour on his lung – meaning yet another round of treatment.
Despite his illness, Mr Stuart is determined to keep to a normal routine.
The single father still looks after his 19-year-old daughter Eilidh, and heads to Ensco Rowan every day where he works as an inventory controller.
He said: "I've worked all the way through this.
"Sometimes I've worked from home, mainly during the days after chemo.
"But work have been amazing and I almost can't believe how well they have treated me."
As a way to show his gratitude to the people who have supported him, Mr Stuart will take to the catwalk for charity next week.
The 51-year-old will join nearly two-dozen others who have faced a cancer or haematology diagnosis to participate in a fundraising fashion show at Aberdeen Beach Ballroom on May 10.
Brave, a spin-off of the all-female sister event Courage on the Catwalk, will raise money for Friends of Anchor, which is working towards the creation of a world-class cancer treatment and research centre in Aberdeen.
Mr Stuart said: "It's been really exciting, and there are a few new friendships blossoming.
"At first I didn't know what to expect.
"A couple of friends nominated me then I was asked if I wanted to take part – I never expected to be picked so it was quite a shock.
"It was nerve-wracking at first because I was a little bit out of my comfort zone, but it's lots of fun and we've got a really good set up."
And he hopes that, by sharing his story, he might be able to encourage others to ensure any signs of cancer are caught early.
"A lot of people get the bowel screening kits in the post and just put them in a drawer and forget about them," he said.
"I've had numerous friends and family members, when they've heard me story, tell me they still had their kits and have now sent them away.
"Thankfully they've all been OK, but it shows the importance of participating in this."